Fasting for Fire & Doorways to Encountering God (Book & 3-CD/Audio Series) by Jennifer Miskov; Code: 9799
Fasting for Fire & Doorways to Encountering God (Book & 3-CD/Audio Series) by Jennifer Miskov; Code: 9799
O, foolish virgin, where will you find oil at this late hour?
If you can't remember the last time you were on fire for God, the oil of personal revival is closer than you think. But you must put a match to it!
Jennifer Miskov sought out how the great pioneers of revival experienced moves of the Holy Spirit, both in their personal lives and their corporate communities. Fasting was THE underlying ingredient that initiated focused communion with God.
Jennifer is known as both coach and catalyst. She says fasting feeds your spirit, and as your spirit breathes the atmosphere of Heaven…good things happen. Jennifer's book, Fasting for Fire, points you to: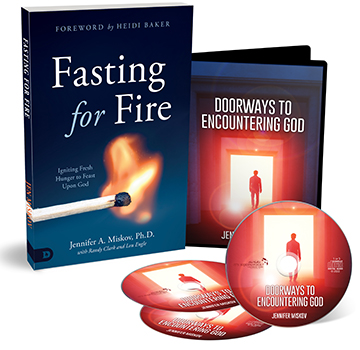 • Deeper union and connection with Jesus
• Anticipation and hunger for God
• Greater flows of revelation
• The authentic fire of your awakened spirit
Jennifer says the spirits of malaise and complacency will not like it, but when the sense of knowing your spirit is FULLY ALIVE overtakes you, you will not turn back! 
With that in mind, her 3-CD/audio series, Doorways to Encountering God, gives special emphasis to the "Fire fast" and leads you through intentional focuses on intimacy, consecration and revival. Yes, FULLY ALIVE is better. You were made to know it, and the urgency is real! Includes Fasting for Victory card.
Jennifer A. Miskov, Ph.D., is a revival historian, writing coach and itinerant minister who loves to lead people into intimacy with Jesus and the fullness of the Holy Spirit. She is the founding director of School of Revival and Writing in the Glory. Jennifer is ordained by Heidi Baker with Iris Global and currently lives in Southern California.
---