Face to Face with God Package (3 Books & 2-CD/Audio Series) by Jim Maxim; Code: 9772
Sale!
Face to Face with God Package (3 Books & 2-CD/Audio Series) by Jim Maxim; Code: 9772
Miracles Are in Your Neighborhood!
Jim Maxim's life story is proof that miracles are close to home—and that victories are won through God's power no matter how many odds are against you. 
It looked like everything was working against Jim: Addiction to alcohol • Habitual drug use • Constant feelings of worthlessness • Demonic oppression • All but dead (after a violent accident).
Face to Face with God is the story of how God unwrapped His intended plans even while Jim lay unconscious. Jim was delivered, saved, healed and filled with great peace so that you could know God did it. Jim has never looked back!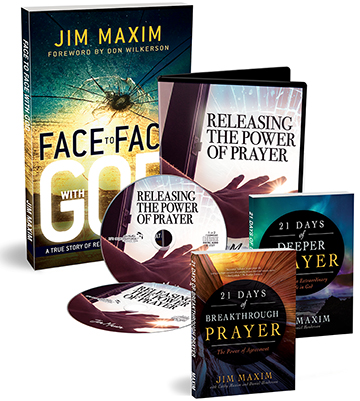 Out of it all, God gave Jim Maxim a heart for prayer. You can learn about that from his 2-CD/audio series, Releasing the Power of Prayer, in which Jim opens up God's most precious gift of all—relationship! Jim lays the foundation:
• Prayer (relationship) is freely given to you
• Life apart from prayer is incomplete
• Prayer is the agent of your transformation
Jim gives you a running start with two more powerful books, 21 Days of Deeper Prayer and 21 Days of Breakthrough Prayer. Jim wants you to experience one of the most transforming gifts God has provided, the prayer of agreement. And when you realize God's door is always open, it will change your life!
Jim Maxim and his wife, Cathy, have been involved in inner-city ministry for over thirty years as regular hosts of city-wide prayer gatherings, founders of Acts 4:13 (a ministry dedicated to mobilizing the church to prayer for pastors), and board members of People for People and World Impact. Jim is also the Chairman of the Hope Center, an urban crisis pregnancy center in North Philadelphia, as well as an author and speaker.
---