Everyday Supernatural & How to Experience God's Unexpected Manifestations (Digital Download) by Joanne Moody; Code: 9827D
Everyday Supernatural & How to Experience God's Unexpected Manifestations (Digital Download) by Joanne Moody; Code: 9827D
What God calls practical is well within your reach!
Since experiencing her own life-changing supernatural healing, Joanne Moody has made it her mission to give away the love and miracles of Jesus everywhere she goes.
In Everyday Supernatural, Joanne serves up real-world activations to encourage you to:
• Discover your authority is REAL
• Receive (and share) your spiritual breakthroughs
• Confidently pray for miracles
Joanne's 4-part audio series, How To Experience God's Unexpected Manifestations, goes on to share insights straight from Heaven on how God moves in real life right under our noses!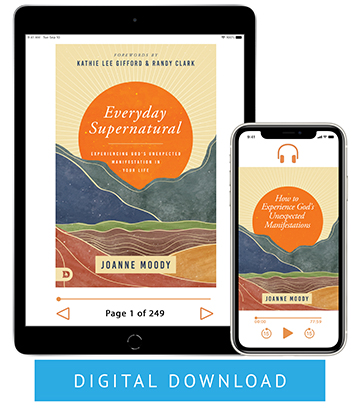 "Lies we believe"
Joanne's latest teaching began with a vivid dream when Joanne clearly heard the Lord say "to equip My body you need to focus on real LIFE — love, identity, freedom and empowerment." Joanne's word led to more revelation and the powerful teaching series offered here. God's truth is able to expose satan's lies—lies that rob you and people around you daily!
If anything, God is practical! Joanne Moody says you are right where He needs you.
Joanne Moody is ordained through the Apostolic Network of Global Awakening. Her focus is to see people walking in their true identity. Her ministry, Agape Freedom Fighters, is active both in the U.S. and internationally. Joanne and her family reside is Rocklin, CA.
---