Decoding the Antichrist (Book & 3-CD Set) by Mark Biltz; Code: 9598
Sale!
Decoding the Antichrist (Book & 3-CD Set) by Mark Biltz; Code: 9598
Will the real Antichrist please stand up?
For 2,000 years people have anxiously tried to analyze who the Antichrist might be and when he will be revealed. People have made improbable claims and been wrong. If you are not careful, it is easy to get caught in debate and become sidelined arguing with other Christians, which profits us not!
We now live in an era when there is a possibility of an artificial intelligence "Antichrist," a hybrid human that will demand to be worshipped. Have you wondered if it's okay to have Alexa, Siri and other forms of artificial intelligence (AI) in your home? We know the Bible says great deception is coming. Should believers be concerned?
Mark Biltz says you can understand the methods of the Antichrist and avoid the risk of deception. He answers questions on: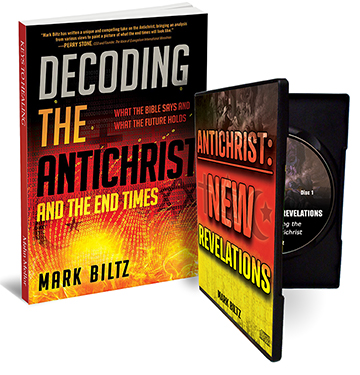 • What guidance the Bible gives on the Antichrist, his tactics and motivation.
• What do Muslims, Jews and Christians believe about the end times? Are there similarities?
• Will the Antichrist use technology to take over?
• Is it okay to have various forms of AI in your home?
Mark Biltz lays out the larger picture of what has happened historically, what is unfolding now and what the future may hold concerning the Antichrist as the purposes of God unfold. Mark's 3-CD set Antichrist: New Revelations looks at the spirit of Antichrist; end time perspectives of Islam, Judaism and Christianity; and the significance of artificial intelligence.
Mark Biltz is a well-known commentator on the feasts of God. He is the author of Blood Moons and God's Day Timer. Mark is also founder of El Shaddai Ministries in Washington State.
---