Declare War on Fear (Digital Download) by Jeremy Johnson; Code: 9898D
Declare War on Fear (Digital Download) by Jeremy Johnson; Code: 9898D
You're going to become a giant-killer. It's time to stand up!
Kick fear out of your life for good, with Jeremy's new book, Declare War on Fear, and exclusive audio CD series, Become the Devil's Greatest Fear, that will show you how to overcome the taunts of fear and silence the intimidation that keeps you from having more abundance in your life.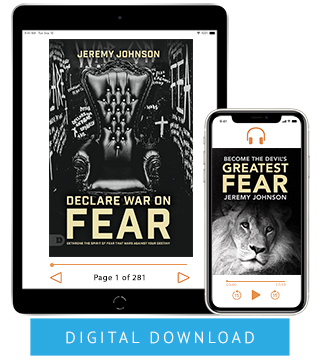 Through this special offer, you will…
Confront fear

with the heavenly power of perfect love.

Be delivered

from the shackles of fear, and instead walk in confidence and joy.

Be healed

from wounds received in church, within families, and at work, and be set free from the hurt of rejection by others.

Move quickly

from feelings of suffering as a victim and stand victorious.

Neutralize fear's greatest weapons

of anxiety, depression and worry.

Defeat fear

so you can move in the miraculous and fully release your destiny.

Dethrone the spirit of fear

that has attacked you and tries to take over your life.

Make the devil run, the demons flee, and make Hell nervous

as you live a fearless life!
Fear is not going to go away by leaving it alone. You must declare war on fear!
Jeremy Johnson serves as pastor of Fearless Church in downtown Los Angeles, California. He has a deep passion for ministering to his community and spreading the Gospel of Messiah Jesus across the globe.
---