Daily Decrees for Family & No More Interruptions to Answered Prayer (Digital Download) by Brenda Kunneman; Code: 9761D
Daily Decrees for Family & No More Interruptions to Answered Prayer (Digital Download) by Brenda Kunneman; Code: 9761D
65 powerful Bible-based prophetic declarations for your family!
Are you ready to defeat the assignments of hell against your family and create a heavenly atmosphere in your home? It's time to decree it.
Brenda Kunneman says God knows the difference between a decree and a petition. It was God who established the difference.
Through her book, Daily Decrees for Family Blessing and Breakthrough, Brenda Kunneman empowers you with 65 Bible-based prophetic declarations to overcome every strategy of the enemy that comes against your marriage, children, finances and household.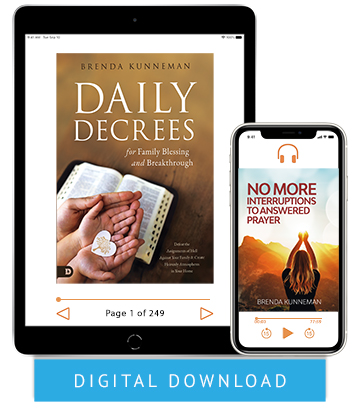 Plus, in her 3-part audio series, No More Interruptions to Answered Prayer, Brenda reveals how to have confidence in the answers to your prayers. It includes her exclusive teaching: "Your Household Shall Be Saved." Brenda also identifies 12 interruptions you need to recognize, and she gives you the steps to resolve each one.
It's time to establish blessings and breakthrough for your family! This was God's idea and He stands with you.
Brenda Kunneman says you can decree your victory!
Brenda Kunneman is cofounder of One Voice Ministries and, with her husband, pastors Lord of Hosts church in Omaha, Nebraska. She is a writer and teacher who ministers nationally and internationally. Thousands visit her prophetic website, The Daily Prophecy.
---