January 2006 Newsletter
A Jewish man from Los Angeles yelled angrily as he walked toward me — "Are you a Christian? Answer me, yes or no!"
A woman cried out: "How do we know the miracles are real?"
In another section of the tent, a group of witches were pronouncing curses against me. Then a satanist got so upset that he brought in a Kabbalist rabbi to exercise his power against me. This was not your father's congregation!
How did I get into such a position? Because of my successful evangelistic meetings several months ago in Israel, over 70 Israeli Messianic Jewish congregations extended an invitation for me to speak for their outreach at a New Age festival next to the Sea of Galilee. I was to give a lecture on miracles — and demonstrate them!
Before and after the lecture, my team and I walked throughout the campgrounds. I have never seen such blatant satanism, witchcraft and hedonism. People were swimming nude in the Sea of Galilee in eyesight of my lecture. Young women were walking around half naked. Booths promoted New Age practices from Jewish New Age (Kabbalah) to fortunetellers to satanism. Young people had multiple demonic tattoos, pins and earrings sticking out of various parts of their bodies and hair in multiple fluorescent colors.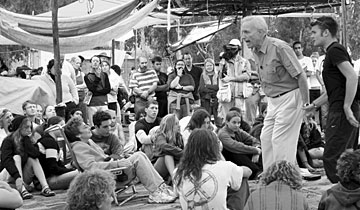 In the center of the festival grounds was a circle surrounded by large boulders. Inside the circle, men were beating large drums. Surrounding them were dancers jumping wildly to the music. Many young people were caught up in the intoxication and frenzy of the event. In the very center of the circle, two men dressed like monkeys were stirring a large kettle over a roaring fire. They said they were brewing "energy" to pour into the Sea of Galilee that would release their power throughout the waters of Israel.
Back to my lecture. I started by promising the audience they would see miracles. When all the disruptions took place, supernatural favor surrounded me and I became fearless. Don't misunderstand me. I am not a brave man. But God so filled me with His glory that I was emboldened beyond my natural ability. As I write this on the plane coming home, I am awed over how God removed all fear.
I spoke about the God of Elijah who challenged the prophets of Baal. I compared the prophets of Baal to the participants in the satanic circle with the wild dancing and the witch's kettle. I offered the same challenge as Elijah: "The God who answers by fire—he is God" (1 Kings 18:24, tniv).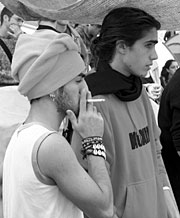 When the man from Los Angeles started yelling and walking menacingly toward me, another man approached the podium as well. I thought to myself, "Oy Vey, two charging at once!" But the second man shouted, "I just got a miracle!" I told the first man to be quiet because the true God had just answered by fire.
Then I was able to give a clear presentation of sin (such as New Age and hedonism), the need for repentance and the Good News of Yeshua. Many said the prayer of salvation and were healed. We gave them a free copy of the Hebrew version of They Thought for Themselves. God had directed me in a dream to write this book and told me it would reach more Jewish people with the gospel than anything I had ever written. After the lecture, a beautiful, young Israeli walked up to me and said, "Several years ago, I read your book and got saved." God is so good!
There were many miracles and people who were led to the Lord one-on-one by my team members. One member, Lance Wallnau, invited his unsaved Israeli Jewish sister to the festival. She brought her extended family with her, including a nine-year-old grandson who was autistic. We prayed for him as he held on to the hands of one of the women on our team. Afterward, he told his mother, "Mommy, what the lady is doing for us is a nice thing." This was the first time he had ever put a complete sentence together!
Another team member, Michael Zeitler, walked up to Lance's unsaved uncle and asked, "What is wrong with your ribs?" Michael had no way of knowing he had a serious rib problem. After Michael prayed, the uncle was instantly healed.
On another occasion, I spotted two young Israelis walking near our tent. One had his arm around the other for support because he had just twisted his ankle and could put no weight on it. I reached down and touched his ankle and he was instantly healed. He started yelling, "It's a miracle!" and that I had healed him. I said, "Not me, but God." Then I directed him into our tent to learn more about Yeshua.
Behind him were two girls. I asked, "Did you see that miracle?" They had not but were very interested. I took them into the tent, and the young man that was healed excitedly told them about his miracle. Sounds like the Book of Acts….
One team member, Selena Covington, witnessed to a young Israeli woman. Selena said, "God showed me your face in a dream and told me to tell you to quit running. You've tried everything else, now try Yeshua." When Selena prayed for her to receive Yeshua, the woman started shaking as she was overwhelmed by God's Spirit. She also received a copy of my book and is being plugged into a congregation.
The next day, we went back to the satanic circle that held the wild dancers and drummers and witch's brew in the kettle. Our team took communion and broke the curse that was on the land. (Later, one of the witches came back to inspect the empty area. It was too late — the curse was broken.)
Then we went to the Sea of Galilee and broke the curse on the water. We worshipped God and prayed that the Sea of Galilee would become like the supernatural river in Ezekiel 47:9 (TNIV), "Where the river flows, everything will live."
I believe this river will become a river of revival. When these young Israelis become as zealous for God as they are for decadence and the New Age, these Jewish believers will once again turn the world upside down. Their red-hot zeal, passion and power will so influence the church that we will once again become "Book of Acts normal."
Dear Mishpochah,
Why is the devil aiming his big guns at Israel? Why is he so nervous?
Why is New Age, homosexuality, and abortion so prevalent in Israel?
Iran's president is on the verge of having nuclear power and has called for Israel to be "wiped off the map."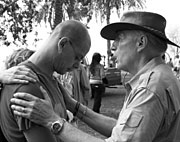 Even the Jewish believers in Israel are suffering unprecedented persecution from the religious Jews. A Messianic bookstore in Arad was firebombed and the police refused to investigate. In Jerusalem, a 15-year-old Messianic Jewish girl was physically attacked and pelted with garbage. Another Messianic Jewish family had their car sabotaged causing it to crash. In Tel Aviv, a Messianic Jew was attacked by a large group of Orthodox who forced their way into his home and physically attacked him.*
Why has God had me do two historic, high-profile evangelistic meetings this year in Israel? Why did Marilyn Hickey order 1,000 copies of my evangelistic books to distribute in Israel this year? Why did we have to reprint these evangelistic books in Hebrew because of the high demand?
On October 9, 2005, Kim Clement prophesied the same thing that the Spirit of God has been showing me.— This is the set time to favor Zion (Israel)!
Kim said: The nation of Israel is going to have a moment, an opportunity to meet the Messiah on a national and international scale. Some of the greatest apostles are going to come from a "Damascus Road" experience and are going to be Jewish people. Do you understand that God has not forgotten about them? God will not forget about them! He said, just watch and see, there is going to be a raising up of Messianic Jews and they will preach the Gospel as no man has preached the Gospel!
When this wave of Israeli revival hits, watch out devil! It spells your checkmate. It is finished (Matthew 23:39).
Thank you for lifting my hands and sending me to the Jew first to form the One New Man to reach the world. "He who wins souls is wise" (Proverbs 11:30, NKJV).
Shalom and Love,
Title
January 2006 Newsletter