Watching Yeshua Dance
Watching Yeshua Dance
by Lonnie Lane
A revelation is something God
plunks into your spirit and suddenly you know what you didn't know seconds
before. You don't learn revelations. They just come to you like an "Aha"
moment. I had one… no, two of them last week. They dovetail together.
We worship God because we're aware that He is what we're not. He is altogether holy; we aren't.

I was in a worship service
and very distracted by my own thoughts flitting here, there and everywhere except
on God. I asked God for help to stay focused on Him. Suddenly I was aware of
the Spirit of Yeshua inside of me, in the middle of me, in my solar plexus. Like
He was Him only in me, a part of me. And He was worshipping His Father! Have
you ever witnessed Yeshua worshipping His Father? Quite another experience
altogether. We, you and I, worship in our appreciation of God, because of Who
He is as best as we understand Him to be, and for all the goodness He bestows
upon us. We worship often to try and "get to God," to experience Him, to know
Him more. We worship to bless Him, to love on Him, and to thank Him for all He's
done to make us His. We worship God because we're aware that He is what we're
not. He is altogether holy; we aren't. He is worthy of worship.
But Yeshua, even when He was
on the earth as a Man, was also altogether holy. And His worship would have to
have been from a place of being entirely one with God. There was no "get to God"
for Him. He was already there. Y'know, as in "I AM!" What I became aware of in
the revelation I received in a moment was that of Yeshua worshipping His Father
in entire oneness and full understanding of His very Being as God! Lord, please give these dear readers
revelation of this for words are so inadequate.
Do you worship the Father or
do you worship the Son? Both? Or to you are they one and the same? I'm sure I'd
get different answers from different people. That's a topic for another time
perhaps. Often in our congregation we sing about or to Yeshua in our worship,
but this day our songs were addressed to "God" or "Lord." The "suddenly" I
experienced was of Yeshua worshipping His Father in the words we were singing.
As we sang, "You are good, You are good, You are good to me" to God, I became
aware that when Yeshua would sing that to Him, He knew God's goodness from
inside of God, from a place of which I have no real understanding. My thoughts
went to how Yeshua knew God's goodness from the beginning. The beginning of
creation that is.
I realized that Yeshua was
there "in the beginning" (Genesis
1:1) when the earth and the sun, moon and stars were created with a word from God,
when all that lives and grows on this planet was formed and given life,
including mankind in His image into whom God then breathed His glory. When all
that took place Yeshua had a part in it. "He
was with God in the beginning. Through him all things were made; without him
nothing was made that has been made" (John 1:2,3). He was there when each
part was completed and God stepped back and looked and said, "Tov!" "It is good." When He said good He certainly didn't mean,
"Yeah, nice job if I say so Myself. I like it." He meant it was all – every aspect of it – intrinsically,
naturally, inherently of the same character and nature as God Himself who is
altogether and entirely good. What God created came out of and reflected His
very essence. Shall we use words like perfection, or holiness, or purity….?
It would seem that goodness would be closest to sum up all that. And that's how
God saw it as well: Good! Like Him. This matter of God's goodness,
incidentally, is worth spending some pondering time over, asking Him for
revelation of your own into His goodness.
When Yeshua would worship His
Father, and undoubtedly He did all the time, He did so from a place of "knowing,"
of having experienced being "one" with the absolute goodness of God. He had to
enjoy a constant knowing of God's flawless goodness far beyond what we
presently know of God and His goodness. Then just as suddenly a picture came
into my mind of Yeshua in unbounded joy, dancing before His Father, unable to
contain the energy without doing so. Jews dance before the Lord (think of
David) so no doubt He must have. I watched Him for a moment. I wanted to dance along
with Him.
God is altogether good to us;
we know He is. But Yeshua was one with God's goodness. He didn't observe it
from afar. He was the very embodiment of God's goodness. But as He was also
completely human, He would worship as a Man, just as He lived His life before
God as a Man. And no doubt, as a Man, albeit a perfect Man, Yeshua's heart must
have overflowed with praise and worship beyond what we've known. We can only worship God as we understand
Him to be. Yeshua would worship as He knew Him to be, even from the foundation
of the world! And when He prayed, He surely wasn't trying to convince God to do
something or meet a need. He prayed so that He would know what God wanted to
do, so He could then go do it. Not that we aren't to ask for our needs from
Abba. He did too. "Give us this day our
daily bread" (Matthew 6:11), for example. That's a legitimate prayer. But
there was more to His praying than that.
Imagine Yeshua is off alone
with His Father, as He often tended to do, even all night. The disciples come
looking for Him and come upon Him while He's praying. Something about the way
He's praying, in the way He's relating to God, as He interacts with His Father
must have arrested them. They must have watched Him for at least a little while
to know there was something there they wanted that they knew they didn't have.
Whatever they witnessed of Yeshua praying it put a longing inside the disciples
that they said, "Lord, teach us to pray" (Luke 11:1). Yes, John had taught his
disciples to pray, but I would imagine hearing Yeshua pray to His Father was
like stepping into the presence of something holy, something so tinged with
glory that it humbled them to be there with Him. If you've felt the presence of
God, you know what that feels like. You want more of God; you can't get close
enough to Him. Their request to learn to pray like He did wasn't to learn an
exercise of what to go through when they were praying. It wasn't a formula they
were looking for, as we have often used the Lord's Prayer (and that's okay; it
actually bears good fruit to do so), but they had to long for something more
when they asked Him to teach them to enter into God's presence as He was
obviously able to. And how to pray with such confidence in God answering.
Seeing Him pray must have put a desire in them to experience the presence, the
relationship, the oneness with Abba that He had. Does that just stir in you the
same desire? Lord, teach us to
pray like You did!
We can "access" God the same way Yeshua did, by His Spirit within us, just as He was in Yeshua.

When Yeshua prayed or
worshipped His Father, He was "echad"
with Him, that is the two were as one; a union of two being as one. He didn't
worship to try and get to God or try to please God. He didn't just pray "down
here" to His Father "up there." He experienced the union that exists between
Himself and God. He didn't hope to reach Him, He was already with Him. And when
He worshipped, He did so knowing the all encompassing goodness of God that is in
God. The amazing thing is this: Both live within us: "The Spirit of Yeshua" (Acts 16:7; Phil. 1:19) who is also "the Spirit
of God, dwells in you?" (1
Cor. 3:16). So that same being "echad" exists for us. He's not just "up there"
for us either. He's in us if we're born again. We can "access" God the same way
Yeshua did, by His Spirit within us, just as He was in Yeshua. That never
ceases to amaze me. Only God would have thought of that. I would never dare.
So there I was, entirely
focused now, on Yeshua in me worshipping His Father as if I was Yeshua
worshipping His Father. I could observe Him worshipping, even dancing, and yet
experience some of what His experience would be. As we continued to worship,
singing songs of His majesty, His glory, His mercy to us… I was experiencing
Yeshua singing to Abba with the full knowledge of His majesty, of His glory,
and of His mercy. Not that I could see these aspects of God as Yeshua did, but
that I was experiencing Yeshua worshipping.
Rather than make statements
here, I'm just asking a few questions for you to ponder for yourself. What
praise would He give to His Father as a Man Himself, a created being, even
though He was the Son of God? How completely would He give Himself to
worshipping Him? How overflowing with joy would He be as He entered into His
Father's presence in worship? How might His times of worship strengthen Him for
the days ahead? How unhindered would His worship be? How self-conscious or free
to respond to Him are we in comparison?
All I know, is I experienced
Yeshua in me worshipping the Father. As we continued singing "You are Lord" I
saw how Yeshua would know so far beyond what we presently know of God being
Lord – Lord of all and everything. How He would have seen God's Lordship over every molecule and atom in
this earth. Yeshua could see in the spirit realm evidently. He saw angels and
demons, attitudes and intentions. He saw what God showed Him. He would see His
Father's Lordship in every leaf, every raindrop, every grain of wheat. He knew
that God is Lord over every person, situation and circumstance. He is Lord over
history, over the past, the present and the eternal destinies of every created
being that has ever lived, be they angel or person, righteous or unrighteous. When
we sing, "You are Lord of all," all doesn't mean just what we're aware of.
All means all. So when we sang that, I became aware of how Yeshua would have
worshipped God as Lord of all there is, knowing He is the Creator, Sustainer
and Maintainer of all existence. And in it all, He is altogether good! When
God's goodness fills your consciousness, as it must have filled His, there can
only be joy. Unhindered joy.
So from this experience I knew that I could
go into the Yeshua inside of Me and worship from Him, not from my own mind or
heart. The Spirit of God within me enables me to worship as Yeshua would
worship. It's like being Yeshua and worshipping with Him, by Him, in Him,
through Him. Then worship is no longer about whether I feel worthy or not to
come into God's presence. If I'm His, and I'm washed in the Blood of the Lamb
of God, I can come directly before the Throne of Grace, provided I come with a
humble heart and reverence as Yeshua did. Was there ever a person more humble
or reverent than Yeshua, more obedient, more living for God's glory than He? No
not one.
Access to God has been made for me by Yeshua who understands what it is to be human.

Access to God has been made for me by Yeshua who understands what it is to be human. He had His share of what humankind suffers and inflicts upon one another, or what we suffer from demons bringing evil into our lives. He knew about that. So He now can be of help to us as our
High Priest and Risen Lord. "For we do not have a high priest who cannot
sympathize with our weaknesses, but One who has been tempted in all things as
we are, yet without sin. Therefore let us draw near with confidence to the
throne of grace, so that we may receive mercy and find grace to help in time of
need. (Hebrews 4:15, 16).
"Time of need" could mean, Lord, I just need
to be with You, I need to be near You. I need to know You more, I need to be
entirely Yours. That is my need, Lord. Only You can make that a reality, to be
Yours and to worship You fully. Lord, I need to know Your presence more than I
ever have before. I need to see Your face. I need to be so continually aware of
your goodness that it overrides any encroaching evil in the world. I need to
live in Your light so darkness cannot cling to me. Lord, I need to know You far
beyond what I know of You now. Not just me, but all of us, Lord. We need in
this hour we live in to know the majesty of Your humility so that we are never
deceived by the spiritual poverty of pride. We need to know first hand the
authority of Your righteousness. We need an impartation of the poise of the
dignity You exuded no matter what You went through. We need a deep revelation
of the glory of Your purity and goodness that cascades into worship, and so
that we would be people who represent You in Spirit and in Truth to a world who
doesn't know Your goodness. Whatever else I need in life, You will provide. You
have promised, Lord, to "supply all (my) needs according to Your riches in glory in
Messiah Yeshua" (Phil. 4:19). You are my one great need! So I come to you
in my weakness, overflowing with gratefulness for Your great grace, knowing I
can count on You to be with me always, and confident that You will reveal a deeper
revelation of Your goodness and mercy to me that will follow me and be with me
all the days of my life and forever. I thank you that You have already met our
greatest need, to be one with You. Lord, You are all I really need and You are
my Need-Meeter!
…. Oh, sorry. I forgot you were here. I got
carried away worshipping. Now where was I? Oh yes, the second experience
piggy-backed on this one. I was in a time of quiet soaking before the Lord,
just being awed by Who He is, when it came to me that Yeshua had said that He
and the Father would make their home (abode) with me: "If anyone loves Me, he will keep My word;
and My Father will love him, and
We will come to him and make Our abode
with him" (John 14:23). That means both Yeshua and His Father have made
their abode with me by the Spirit. That "with" me also means "in" me, in my heart: "Now He who establishes us with you in Messiah and anointed us is God,
who also sealed us and gave us the Spirit in our hearts" (2Cor
1:21,22).
As I was thinking about both the Father and
the Son living within me, I had another "suddenly" moment. In it I
saw/understood/grasped/experienced the yieldedness of Yeshua to His Father. I
grasped how in total accord they were/are. I saw that as a Person there was
never in Yeshua any deviation from the will of His Father. He was in complete
and entire harmony with His Father without exception. They were, in fact, one
in thought, intention and character. At that same moment, I became aware of the
conflicts that exist in my own heart and life. As I "experienced" Yeshua's
loving obedience and submission to Abba and His consequent peace, in
juxtaposition my own conflicts were revealed to me in how conflicted I often am.
I saw how I am not fully obedient and submissive to what I think is God's will.
I saw how there are conflicts in my own innermost being because I have things
that are not entirely in order in my life. Not things you'd count as sins, (and
hopefully He doesn't) but how does God see it when I put off what I feel Him
nudging me to do now? When I ignore what needs attending to so that I find
later it cost me something for not having attended to it when I should have. Do
I ask Him to heal me when I've not always taken care of my body as I should? Do
I only do the things I like to do and procrastinate about the ones I don't like
to do when I really know what I should do? Am I neglectful of someone I know the Lord would have me
reach out to? Does the TV capture more of my attention than my Bible? Do I
speak words that would have better been left unsaid?
What I saw in that moment is not so much the
enumerated things above, but that my spirit is not at rest when I'm in conflict
much too often because of not heeding the nudge of the Spirit of God to do
something when He asks me to do it. Yes, He is involved in those mini-things in
our lives. Because if we aren't faithful in the little, how can God trust us
with more? If we aren't responsible, yielded and obedient with what we have
before us now? "He who is faithful in a very little thing is faithful also in much; and he who is unrighteous in a
very little thing is unrighteous
also in much" (Luke 16:10).
I want His peace, don't you? If there's a
need in our lives, it's for His peace. The world we live in is increasingly at
unrest. How do we, as the people of God, remain in His peace in the midst of
the demands of our lives today? For one thing, we acknowledge our need to be
transformed to walk in immediate obedience and yieldedness out of a heart of
love and trust in God. Can we accomplish this on our own? Surely not. Or we
would have done it already. So here's where my two revelations dovetail. I must
live from Yeshua within me. I must live from Him, not from myself. As He lives
within me I must be sweetly and deliberately aware that the Spirit of my Yeshua
actually dwells within me, and not just Yeshua but God by His Spirit lives in
me? Isn't that how He created Adam and Eve originally, to live by the Spirit of
God He breathed into them so they became living souls or living beings with a
soul. God has breathed upon you and me if we are born again by His Spirit so
that we have the Spirit Adam and Eve forfeited.
As we are indwelt by the Spirit of God, we
are also at the same time indwelt by Yeshua and His Father because the Spirit
of God is the Spirit of Yeshua and
the Spirit of the Father. Let me show you. Paul says "I bow my
knees before the Father, from whom every family in heaven and on earth
derives its name, that He would grant you, according to the riches of His
glory, to be strengthened with power through His Spirit in the inner
man, so that Messiah may dwell in your hearts through faith; and that
you, being rooted and grounded in love, may be able to comprehend with all the
saints what is the breadth and length and height and depth, and to know the
love of Messiah which surpasses knowledge, that you may be filled up to all the
fullness of God" (Ephesians 3:14-19). Natural knowledge will not give you insight into the fullness of God's
goodness or love, but revelation will. He grants the revelation. Paul wouldn't
pray that if he didn't expect God would reveal it to those who read his words,
which includes you and me.
What I want to leave you with today, is my
prayer that you will experience a new and fresh revelation from God so that you
can give up trying to get Adam saved (It'll never happen) and live and worship
and pray from the Resurrected life of Yeshua within us. We really not only can
but must forsake using our old nature to try to attain some place with God we
can only get to through the life of Yeshua in us. Then perhaps we'll all be
free to dance with Yeshua in worship.
Reprint of this article is permitted as long as you use the following; Use by permission by Messianic Vision, www.sidroth.org, 2010.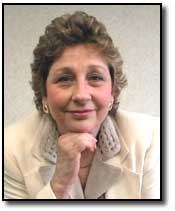 Scripture quotations are from the New American Standard Bible Copyright ©1960, 1962, 1963, 1968, 1971, 1973, 1975, 1977, 1995 by The Lockman Foundation, La Habra, Calif. All rights reserved. Used by permission.
---