Vatican's Hanukkah Announcement: Don't Witness to Jews!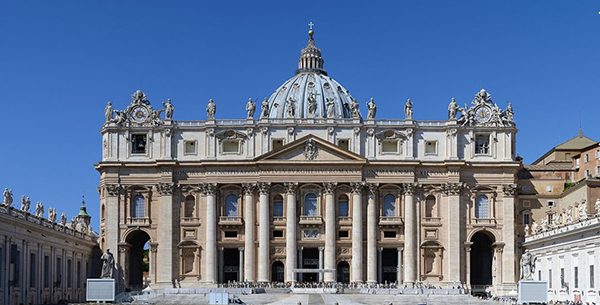 by Sid Roth
Just before the first Hanukkah over twenty-one centuries ago, the devil tried to force all Jews to assimilate—to stop being Jewish. According to the Torah, the Messiah had to have Jewish ancestry. And the devil knew that if there were no Jewish people, there would be no Jewish Messiah—Jesus! Not only that, but without Jewish people there would be no evangelism of Gentiles. John 4:22 says, "…salvation is of the Jews."
Of course, the devil lost. On Hanukkah we celebrate the great victory of the Jewish Maccabees against the Syrian-Greeks, when the Jewish Temple was rededicated to God. And just over a century and a half later, Jesus brought salvation to the world.
Now the devil has a new strategy to stop the return of Jesus and prevent worldwide revival. He is trying to keep Jewish people from accepting Jesus as their Jewish Messiah.
On December 10th, during Hanukkah, the Vatican released a document instructing Catholics worldwide not to evangelize Jewish people! The Vatican was trying to improve its relationship with Jews during this festive Jewish holiday. But sadly, it is playing right into the devil's plan.
Here's God's view. Acts 4:12 says, "Nor is there salvation in any other, for there is no other name under heaven given among men by which we must be saved." And Jesus Himself said that we would not see Him again (His long-awaited return to earth) until Jewish people recognize Him as their Messiah (Matthew 23:39).
There has been another astonishing development during this Hanukkah. Germany has just announced its support for a European Union ruling that requires a special label for products produced by Jewish-owned businesses in disputed areas such as eastern Jerusalem, Judea and Samaria.
Does this sound familiar? During the Holocaust, Jewish merchants in Germany had to identify themselves by displaying a Star of David in their shop window or by wearing a star on their clothing. This was to prevent Germans from doing business with them.
Germany as well as the European Union now says if a Jewish business in the disputed area sells a product, its origin must be identified on the package. A Palestinian business in the same area does not have to meet the same requirement.
On top of that, Europe—especially Germany—is being flooded with Muslims who have been trained from birth to hate the Jew. And the United States, along with other leading nations of the world, is enabling Iran to develop nuclear bombs. Iran has publicly declared its desire to destroy Israel.
That's the bad news. The good news is, the devil will be defeated and God's plans will be established.
Here are three things you must know this Hanukkah.
• God owns the land of Israel (Joel 3:2). God has leased the land of Israel to the Jewish people for "1,000 generations," "forever" and "everlasting" (Psalm 105:8-11). God's judgment will come to nations that divide up God's land (Joel 3:2).
• The key to worldwide revival has always been to evangelize the Jew first. This opens up a supernatural door to evangelize more Gentiles than if you go to the Gentiles first. When God wanted to save the world, He went to the Jew first—Abraham. When Jesus wanted to evangelize the world, He went to the Jew first (Matthew 15:24). Even Paul, the Apostle to the Gentiles, reached out to the Jew first (Romans 1:16).
• We are at the 'Fullness of the Gentiles,' which means the spiritual scales are now coming off the eyes of Jews (Romans 11:25). In the last month, I have been privileged to see thousands of Jews publicly proclaim Jesus as Lord! My recent evangelistic outreach in Israel, where over 1,000 Jews heard the Gospel and nearly all made a public profession of faith in Jesus, was truly historic. This has not happened in Israel in 2,000 years.
I have written a booklet called The Mystery Law Of Evangelism Revealed. It is based on forty years of hands-on Jewish evangelism. I believe that after you read this booklet you will lead many Jews to Jesus! I will give it to you free. Just visit SidRoth.org/free.
As we evangelize the Jew, it will trigger the greatest Gentile revival in history!
---