Prayer and A Gallon Of Gas
by Lonnie Lane
God has readied the hearts of people to hear the Gospel. You might be surprised who those folks turn out to be. Yesterday I sat next to a Sri Lankan woman, a Hindu, at a good ole' fashioned southern fish fry. I began a conversation and the short story is she's going to come to the women's Bible study that meets in my home. A Hindu lady at my Bible study! She's looking forward to it. Me too. Today my battery died in my car and I had to call AAA to come and fix it. The man was a Jehovah Witness, though he admitted to having some questions about the Witness beliefs. He told me he was hearing me from the bottom of his heart, and even agreed this might be a divine encounter. (Lord, why do things have to happen to my car for me to meet these AAA guys. This is not the first time.) He allowed me to pray for him that God would show him the truth. He gave me his email address so I can tell him where my church meets. Those two incidents took place in just the last 12 hours. I'm telling you the harvest is ready and waiting out there! Am I an evangelist? Not at all. I see it as normal Christianity. Jump in on the fun.
In tough times, people are looking for something stable, something secure, something real, even something lasting. I'd say eternal life is lasting, wouldn't you? Yeshua is probably the only one that qualifies all the time, in the worst of circumstances, to give hope, direction and safety.
Angels are blessed and rejoice when we lead someone out of darkness into knowing the Light of the World!

The Bible says, "I tell you, there is joy in the presence of the angels of God over one sinner who repents"(Luke 15:10). I think that rejoicing is because the angels know that the person who just accepted the Lord is never going to be alone again. The angels get to do what they love to do most – help God's people. I'm assuming it's their joy to obey God and help bring us to a greater awareness of God in our lives and bring us to safety. So angels are blessed and rejoice when we lead someone out of darkness into knowing the Light of the World! Wanna bless an angel today? Tell someone how wonderful Jesus is to you. That's all it takes. (As I reread this article one last editing time, when I came to this last sentence I had the distinct giggly feeling that I was delighting angels who were reading over my shoulder.)
What if you meet someone or come upon someone you know who is in great pain, physically or emotionally Pray for them! Ask them if you can pray for them, then pray right then and there. God will give you the words. Just open your mouth and trust God to pray and speak through you. He will. I promise. Let the rivers of living water flow through you. When trouble comes to you or to someone else, look to the Lord. Talk to Him, tell Him of the need for Him to come and help. "You don't have because you don't ask" (James 4:2b). How clear is that? Even if He doesn't change your circumstances, He'll change you so you can be victorious in any situation. We don't have to know what to do or how to do it, whatever 'it' is. What God is looking for is people who will trust Him and let Him live through them.
What God is looking for is people who will trust Him and let Him live through them.

Yeshua told the Samaritan woman, "He who believes in Me, as the Scripture said, 'From his innermost being will flow rivers of living water.'" (John 7:38). If you wonder why you're not overflowing with living water, it's likely because you're not letting the living water flow out to bathe others with the love and truth of the Lord. God says that those who forsake Him are forsaking His fountain of living water: " O LORD, the hope of Israel, All who forsake You will be put to shame Those who turn away on earth will be written down, because they have forsaken the fountain of living water, even the LORD" (Jer. 17:13). My point isn't to say you've forsaken Him. You probably wouldn't be reading this if you had. The point is that God has put within us "a fountain of living waters, even the Lord!" He's living inside of us and He wants to express Himself through us. When we don't share the love of God with others, it's like gagging Him. Imagine a Jesus who isn't allowed to talk. He's given us each a "deposit" of Himself to share with others. We don't want to be those who forsake that living water of God, do we? I've recently had occasion to be reading the stories of people who have been to heaven. One such story tells of the magnificent robes and crowns given to those who win people to the Lord, with chains of hearts (that look like valentine hearts) cascading down their robes, one heart for each soul saved. To be honest, I actually cried a little when I read that, because my heart chain would be so short if I were to go to heaven now. I want every one of those potential hearts yet to be lining my celestial robe to be in heaven with me.
As the days possibly get more difficult, increasingly the only truth will be with the believers. Do you realize if you have the Holy Spirit and the blood of Yeshua has washed you clean of your sin so that you are restored to God, you have more truth than any president, college professor or newscaster who pretends they do? Ponder that for a few days and let it sink into your spirit. Then begin to think, choose and act like who you really are in Messiah! That's not pride, that's obedience. I hear often that we just need to know who we are in Christ. But I'm seeing what we really need to know is that He is in us! Sure, there are people who are sure they're right and aren't. I had another lady at the fish fry tell me her husband's father was Jewish. I said, That makes your children Jewish because the Bible says the bloodline comes through the father. "Well," she said with all the authority of her 89 year old self, "the Bible is wrong. It comes through the mother and I'm not Jewish." So much for that conversation. Some you go into and some you don't. Be led by the Spirit.
Then there will be those who have no idea what's right and are longing for someone to tell them. What they need is a taste of the Lord, and who is there to give it to them but us. If you're looking for more peace and some joy, then do something God would consider a work of righteousness. Nothing calms the soul like "the peaceful fruit of righteousness" (Hebrews 12:11), which begins with believing God's word and trusting that what He says He'll do, He'll do. Then we are truly sons and daughters of Abraham so, like Abraham, who believed God, our faith counts as righteousness. A commitment to participate in God's outreach to others will serve to strengthen you in your inner most being. Not only will others receive from you living water, but you yourself will be filled to overflowing with stability of mind and heart. "And the work of righteousness will be peace, and the service of righteousness, quietness and confidence forever" (Isaiah 32:17).
A commitment to participate in God's outreach to others will serve to strengthen you in your inner most being.
When we are involved in the service (acts) of righteousness, such as bringing someone to salvation, meeting a need in someone's life, or just being loving to someone who needs to be loved, it brings a quietness to our souls and to theirs – and a confidence in God that is eternal. I had opportunities to do both last week. A friend and I stopped for gas and while my friend was pumping the gas a woman approached her and asked if she would please buy her a gallon of gas to get home. All she needed was one gallon of gas. $4 worth of gas was more than she had. While my friend went to buy her more gas than she asked for, I started talking to her about Jesus. Her husband Gary had just had a stroke and her elderly mother, who was in the car, was living with them. She had a lot on her shoulders. As I talked to her about God being there for her and loving her she began to cry. I led her to the Lord and she said she was going to lead her Mom and Gary to the Lord when she got home. Three in one! Whooey. I felt the Lord's joy all the way home. The angels' joy too, come to think of it. I tell you these stories just so you'll know how easy it is. It's all in the "getting about it," just in starting to talk and share what's on your heart. The Lord will lead you. He didn't tell us to do something and then leave us on our own. That's not how God is. He's with us to do whatever He asks of us.
If there's a lack of joy in your life, could it be because there is too little "service" on our part to share the righteousness of God with others? It doesn't take much. A few weeks ago I met a brand new Jewish believer. She's been saved for four months. She seemed to take to me and said something about wanting me for her new Jewish mother as her mother was gone. Then she said, "But you would probably yell at me if you were my mother," to which I said, "No I wouldn't, I would love you." At that she melted into my arms and that resulted in some significant "discipleship" and praying some serious things off of her life. Whether I get to see her again or not this side of heaven remains to be seen. But it was God meeting some real needs for her, beginning with just plain love. Sometime a hug says more than our preaching. And you never know what a gallon of gas will lead to.
Reprint of this article is permitted as long as you use the following; Use by permission by Messianic Vision, www.sidroth.org, 2011.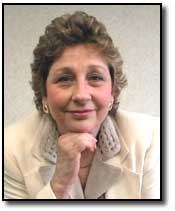 Scripture quotations are from the New American Standard Bible Copyright ©1960, 1962, 1963, 1968, 1971, 1973, 1975, 1977, 1995 by The Lockman Foundation, La Habra, Calif. All rights reserved. Used by permission.
---