One New Man Prayer Meeting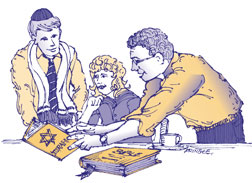 by Sue Towne
Since 1999 I have been attending a monthly community prayer meeting which draws about 700-800 people from all over the Chicago area. As we enter the sanctuary, we receive a song sheet and a thin, tapered candle. At a certain point, a leader lights a candle and passes the flame to children, who in turn light the candles of those standing near the aisles. Eventually the flame is passed to every person in the room.
I believe this is a kind of 'living parable,' a reenactment of the words of Yeshua in Matthew 5:14, "You are the light of the world." Each month as the flame is passed from person to person in the dimly-lit sanctuary, the level of light in the room visibly increases.
Then, after some scripture reading, we sing an appropriate song as we individually make our way to the altar area and plant our lighted tapers in terra cotta bowls filled with sand. After everyone has planted his candle, we sit for about ten minutes in total silence before God, listening.
I always sit on the floor in the first row because I like to see all those candles blazing together. It reminds me of another thing from that same verse in Matthew 5; Yeshua said, "A city that is set on a hill cannot be hidden." And all those flames together do look like a city on a hillside.
At the most recent prayer meeting, something unusual happened—something that spoke to me "as in a parable." The very last person to plant her taper in the sand came up to the altar with an unlit candle. She lit her candle from one of the votives next to the bowls of sand, but hers was only a tiny flame, immature. Seconds after she planted it in one of the bowls and turned to leave, her candle went out.
We were finishing our song, and I thought, "I will just get up and relight her candle." But an amazing thing happened. The unlit candle was surrounded by blazing tapers, and suddenly the candle's wick caught fire spontaneously. The heat from its neighbors reignited it.
Now, if that candle had been sitting by itself in the bowl of sand and went out, it would not have reignited. So, this is a picture of the benefits of Hebrews 10:24-25 in which we are exhorted not to forsake the assembling of ourselves together, but rather to stimulate or provoke one another to love and good deeds.
Of course, we can easily apply this 'parable' to our congregational life as believers. But in relation to our intercession for Messianic Vision, we have another opportunity. I am encouraging each of you to ask the Lord whether He would have you begin or help build a local prayer group for Messianic Vision. In particular, we need groups that would embody the spirit of what Sid has been teaching us, for several years now, about the concept of One New Man, Jew and Gentile made one in Yeshua.
What is the value of a local prayer group for Messianic Vision? Simply, we are warmed by each other's flame, and we can ignite or reignite others who come among us with the same zeal for prayer concerning the Messianic Vision, Israel, the Jewish people, and especially the salvation of the Jewish people in our local communities. Many of these MV prayer groups will eventually become One New Man house congregations.
If you believe that the Lord would have you begin such a venture locally, either in your home or in your local congregation, please contact the ministry office in Brunswick, Georgia by calling (912) 265-2500 or writing P. O. Box 1918, Brunswick, GA 31521.
—Sue Towne, Messianic Vision International Prayer Coordinator
Scripture marked NKJV taken from the New King James Version. Copyright ©1979, 1980, 1982 by Thomas Nelson, Inc. Used by permission. All rights reserved. Emphasis added.
---