Need An Oil Change? (part 2)
by Sue Towne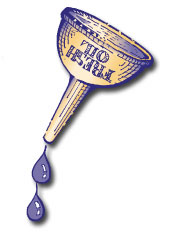 This month we complete an article by Sue Towne, Messianic Vision's International Intercessor Coordinator.

We began last month digging deeper into Zechariah, chapter 4. Zechariah was given a vision during an angelic visitation. He saw a huge menorah with golden oil lamps. On each side of this menorah stood an olive tree, which were hooked into the menorah to continuously provide olive oil to fuel the lamps.
Zechariah asked the angel to explain the vision. The angel answered and spoke about Zerubbabel, a contemporary of Zechariah who was helping rebuild the Temple in Jerusalem. Zerubbabel was also an ancestor of Yeshua. Beginning in verse 9, we substituted the name "Yeshua" for "Zerubbabel" and found a deeper meaning:
"The hands of Yeshua have laid the foundation of this temple [house]. His hands shall also finish it. Then you will know that the Lord of Hosts has sent Me to you. For who has despised the day of small things? For these seven rejoice to see the plumb line in the hand of Yeshua. They [seven lamps] are the eyes of the Lord, which scan to and fro throughout the whole earth."
Now, regarding the reference to the plumb line being in Yeshua's hand, that is part of His ministry of judgment. A plumb line is a measuring tool used to judge the straightness of a wall. The plumb line reference in Zechariah 4 brings to mind the passage from Revelation 11:15-19. The twenty-four elders around the Throne of God fall on their faces in worship, praising God for taking up His great power and judging the earth—rewarding the faithful and destroying those who destroyed on earth.
All of this takes place in the context of His heavenly Temple and the revelation of the Ark of the Covenant, the symbol of His holy presence. The saints rejoice when God judges unrighteousness and rewards faithfulness.
I believe we are at or on the edge of a time of judgment. Yeshua is Lord of Lords, not just the Lamb of God. And when this judgment comes through Him, the saints and angels of God will rejoice because of the holiness of God in His righteousness.
But one more thing. At the end of Zechariah 4, we get the answer to Zechariah's original question to the angel in verse 4. The angel says that the olive trees standing by the menorah are (literally, in the Hebrew) "sons of fresh oil."
Lord, in this coming time on the earth, make us "sons of fresh oil" also. We need Your fresh anointing, even as You gave it to Your servant David in the presence of his enemies in Psalm 23. With Your holy oil, anoint us afresh for this day and time in the earth.
Omayne!
—Sue Towne, Messianic Vision International Prayer Coordinator
Scripture marked NKJV taken from the New King James Version. Copyright ©1979, 1980, 1982 by Thomas Nelson, Inc. Used by permission. All rights reserved. Emphasis added.

---