Less Can Be More
Less Can Be More
by Lonnie Lane
If you saw Sid's interview with Nathan Morris you know there's a Revival going on in
Mobile, Alabama. That's not the only place God is saving souls and healing
people. The live link of the Revival is bringing salvation and healing to
people the world over, but so are ordinary people. That is, ordinary people who
carry within them an extraordinary God. That's you and me, if you belong to
Yeshua. Revival is in the atmosphere. There is an electric sense of the Lord's
presence. It can be as near as your internet. Someone walking in a strong
anointing on the air can just say, "Jesus!" like they mean it and you can feel
that anointing shoot right through to your spirit.
Revivals are about bringing people to the Lord. It begins with trusting in God to touch other people through you.

How can I enter
into what God is doing in this regard, you may be asking. Do what He already
told us to do. We pray. We seek God for more of Him. When people cry out to God
for Revival, He hears and when we reach what some might call "the tipping
point," things begin to happen. But it takes doing on our part, doing what He
told us to do. Revivals are about bringing people to the Lord. It begins with
trusting in God to touch other people through you. There's a greater awareness
of His presence and holiness, and a deeper sensitivity to His will in each
person's heart. But with all that, Revival is still primarily about bringing
souls into the Kingdom. If it's
only about us and what we're feeling, it's not a true revival. It must result
in people coming into the Kingdom. Because with this greater outpouring of the
Spirit of God comes the motive of the Spirit of God – salvation for the lost. That
was Yeshua's highest priority and it still is.
Now if you're thinking you should share the Lord with others
because He said to and you're feeling obligated and motivated by guilt, then
you need to know that He's not pressuring you into sharing and neither am I.
But if you want to be closer to Him, then one way is to be where He is, and He
is in search of those who are without Him. If you find yourself with a new
sense of caring for the souls of people and their eternal destiny, that's the
Spirit of God sharing His heart with you. You can even begin to ask Him to give
you His heart for the lost. Then watch for who He puts in front of you. When
you share with people wherever you are, it becomes the most normal and most
joyful part of your life.
My church is small, probably no more than 50-75 people at
any given meeting. But we're not depending on numbers to be the definition of being
a successful congregation. As my pastor, Phil, often says, he's not assessing
success by how many come in, but by how many go out to minister. I'm hoping to
stir some hearts to action in what I'm about to share with you, and to inspire
faith that you too can be "successful" for the Lord right where you are. As I
get to write and tell you folks these things, perhaps our church serves as a
kind of "lab" or God's "show and tell" for what He wants to do in churches
everywhere. I tell you about us in hopes that you will catch our fervor for
souls and it will be exported to you.
Pastors – any of you listening? You needn't wait to be a
mega-church to start reaching out. God loves to work with less to accomplish
more. I call it the Gideon Effect (See Judges 6). When He works with fewer in number,
there's no way anyone can get the credit but Him. He chose Israel because they
were small in number. So if you're not a big church, you have the credentials
for God to work miracles among you. You don't need a big budget or well thought
out programs. You just need to start doing it and take some of your folks with
you. You know, "for the equipping of the saints for the work of service, to the
building up of the body of Christ ( Eph 4:12). For those of you without
such a pastor or church, you don't have to be frustrated. You can go do this
yourself. That's the goal anyway, for the body at large to be sharing the
Gospel with others. As Yeshua said, "Go
into all the world and preach the gospel to all creation… Heal the sick, raise the dead,
cleanse the lepers, cast out demons" (Mark 16:15; Matthew 10:8). He meant
those words for every one of His followers, not just those within earshot of
His voice. That means you and me.
Street ministry. Last
summer, Phil, started taking some of us to what he called, "The fishing hole,"
the bus stop at the local mall. It was summer and hot. He took a cooler full of
cold water bottles and off he went, some of us with him, to offer people cold
drinks of water. As in how Jesus said to offer a drink in His name (See Mark
9:41). So offer the water to them and then just start talking to the
people, asking them questions. I've
recounted stories of such conversations more in depth in another article entitled
"His Omnipotent Mercy" which
will provide you with a kind of script you can use to share the Lord with
people.
We've been doing this on the streets at the bus stop and elsewhere for about
six months. At last count, over 650 people have prayed with our folks to
receive the Lord in those six months. This does not count the number of people
who rededicated their lives to the Lord who were already believers but not
walking "tight" with the Lord. Most of these new believers come from a specific
outreach on the streets, but also from encounters our people have in their
daily lives.
Nursing Home ministry. Another
outreach of our congregation is the team that goes to nursing homes each
Tuesday with Pastor Evie, Phil's wife. This team of women go into six different
nursing homes each Tuesday. Anywhere from 5 to 15 of our women rotate around
the nursing homes each month, reaching over 1000 people. They report the
stories to us each week of 2 to 10 on average who came to the Lord in their
weekly visit to the nursing homes. And a number of them have been healed or are
functioning at a much higher level as a result of the prayers the ladies pray
over them. The residents look forward to their visits, for some that is the
only visitor they receive, the only persons who are praying for them, the only
time someone touches them who isn't a nurse, or who tells them they love them
and that Jesus loves them. Sometimes they sing to them. It's such a wonder when
Alzheimer patients, for instance, who are no longer able to talk, respond to
singing songs about Jesus. He said, whoever visits the sick, it's as if they
visited Him: "Truly I say to you, to the
extent that you did it to one of these brothers (or sisters) of Mine, even the least of them, you did it
to Me" (Mathew 25:35-40). These are ordinary ladies, from ages 18's to 70's, who are making a
difference in the lives and eternities of so many in those nursing homes. It's
not hard. You can do it too, no matter your age. (Don't forget to get
permission from the nursing homes if you're going there.)  
Retirement Home ministry. Another
outreach has to do with two retirement communities. Our pastor emeritus and his
wife are also Phil's parents and still part of our church. They were in
retirement, but this past few months of evangelism has stirred their hearts to
start first one, then two church services in these retirement communities. They
started with few people coming and now each group is growing and reports of
changes and openness to the Lord in those folks are wonderful to hear. There's
a revival going on in these communities when two people in their 70's who
thought they were retired were put back into service by the Lord. He never
retires anyone. There's too much work to do and too many souls to win and
bless.
Normal [Christianity] is to overflow with the Spirit of God onto others.

New church plant. We're not
looking to get bigger, but we are looking to expand. We started a new church
plant a few weeks ago across town where our Assistant pastors live. The first
week one person came. This past week someone announced that she now considered
that Thursday night meeting her church home. We plan to start other Bible
studies with the idea of planting churches elsewhere in our city this year as
the Lord leads. You don't have to be a big church to have big influence in your
community. You just have to do it! When you rely on the Lord, you don't have to
rely on anything else.
Normal Christianity. Aside
from those outreaches, at least someone has a story of some one they reached
that week. The stories are wonderful, and we love hearing them. It's a blessing
to hear about how the Lord has touched so many in such unique circumstances.
Honestly, if you know some of our folks, you would see how far from being
superstar evangelists they are. I know I'm stressing this, but I'm doing so to
counter how we are so indoctrinated with thinking that ministry belongs to an elite
group of people that we feel ill equipped ourselves to step out for the Lord.
This is abnormal Christianity. Normal is to overflow with the Spirit of God
onto others. All it takes is faith. Yeshua said, "He who believes in Me, as the Scripture said, 'From his innermost
being will flow rivers of living water'" (John 7:38). Again, this is for everyone – ordinary people
who walk with and trust in an extraordinary God.
Take my friends Donna and Heinz, for instance. Heinz is from
Germany with a rather thick accent. He met a man at the bus terminal in town
who turned out to be deaf. He could speak properly so he was not born deaf but
had lost his hearing completely. This man generally reads lips and has no
difficulty understanding people, but he told Heinz he couldn't understand him,
as Heinz was trying to share Jesus with him. "Oh," said Heinz, "that's because
of my accent. No problem. Let's ask Jesus to heal your ears." He put his hands on his ears and prayed
and …the Lord healed the man's ears! The man started shouting, "I can hear, I
can hear." Need I tell you he gave his heart to the Lord?
Meanwhile, near by Donna saw a man who was pushing a walker practically
doubled over, his back hunched and his head down. She started to speak with
him, moved by compassion for him. He told her he had just gotten out of the
hospital and she could see the marks in his arms from IVs and he still had the
hospital bracelet on his arm. He told her he was in much pain. They couldn't
help him, he said, despondently. "But Jesus can," she said asking if she could
pray for him. He doubted there was help but told her she could pray. She prayed
and he said he felt no different. She said, "Well, even Jesus had to pray
twice." The man seemed surprised.
"He did?" he asked. "How come?" She told him the story about Jesus praying for
a man's sight and the man said, "I see
men…like trees walking around" (Mark 8:24). He needed to see men like men,
not trees. Yeshua had to pray a second time till the man could see properly. So
the man allowed Donna to pray for him again and his eyes opened wide in amazement.
He stood up straight and announced that his pain was gone. Gone! He started
hollering, "The hospital couldn't help me but Jesus healed me. Jesus healed
me!" And this man gave his life to
Jesus that day as well.
If you met Heinz and Donna you would be greatly encouraged
that if they could do it, so could you. They would be the first to encourage
you that is true. They have many more stories to tell, but I'll move on to a
few of my own.
Angels and Marines.
Sometimes you go out and find folks, sometimes the Lord plants them right in
front of you wherever you go, and sometimes they are hand delivered by angels
to your door. I'm sure the latter was the case with a young US Marine named
James. My next door neighbor called me to tell me there was a drunk Marine on
my doorstep. He had tried to wake him up, but he was too drunk to talk much. My
neighbor was about to call 911 but thought, knowing me, he'd call and see what I
wanted to do with him. And I figured, if God had this young man delivered to my
doorstep, He had plans for him. By the time I opened the door he had gotten
himself up and into the blue rocking chair on my porch, a matter of 3 feet or
so. There he sat, a Marine in full dress uniform rocking ever so slightly with
his eyes closed. Drunk. I felt only peace, so I figured God was in this.
It's a longer story, but he had no idea how he got there or
where he was. He was obviously still very drunk, unable to talk or move much. I
began to talk to him, though it was very difficult to get him to say anything
other than to say in almost a whisper, "Yes, ma'am," or "No, Ma'am." This was
not exactly what I would call a conversation. I did manage to find out his name
and that he was recently back from Iraq. I asked him, "James, do you know
Jesus?" He managed to tell me, "He saved me when I was five." Well, he wasn't
exactly walking with Jesus now. "What happened, James?" His answer, "I joined
the Marines." That was 12 years before. He was obviously a good career Marine.
His uniform bore many ribbons. I
asked him if he wanted to give his life back to the Lord. I could see a battle
going on as he continued to stare and rock. "It's not hard, James. Just 'Jesus,
forgive me. Here's my life.'" That was about as much theology as I thought he
could manage under the circumstances. Then, after a few minutes, the internal battle obviously won, he closed
his eyes and stopped rocking for several minutes. I knew he was praying. When he
opened his eyes again I asked him, "Did you just give your heart back to
Jesus?" The answer was, "Yes, ma'am." I put out my hand to him and said, "Welcome home, James." He took my
hand and for the first time he looked up at me and I saw who he was.
I gave him a moment to reflect if he could on what just
happened, then I said, "I know you're trained not to respond emotionally, but I
see a whole lot going on in your eyes, son. We may never see each other again
this side of heaven. Talk to me." He rocked slowly for a few minutes and then said quietly, "I miss my
grandpa." It turned out Grandpa had recently died and he didn't know if he was
saved or not. He had told him about Jesus when he was eleven but Grandpa never
looked much like Jesus was in his life. But apparently Grandpa was a lot in
James' life and he missed him something terrible. All I could say was, "Well,
you have to trust Jesus with your grandpa. But now you can be sure about your
own life in Jesus' hands." I think you can guess what his response was – "Yes,
ma'am." We called a friend to come and get him. He dialed and handed me the
phone to tell his friend, David, where he was. When David came for him, James
still wasn't walking very straight. He surprised me though when he turned
around and hugged me and said, "Thank you, Ma'am." I think it was one of the
best most polite hugs I've ever gotten. That this young man was hand – or maybe
wing – delivered to my doorstep by angels, I have no doubt. I've prayed for him
most every day. I don't think I'll ever look at my blue rocker and not think of
James.
We often miss opportunities to partner with God if we're not aware He's at work all around us.

When mishaps and things just happen in life you didn't count
on, rather than getting upset about them (especially when you goofed), trust in
the Lord to make something worthwhile out of it. I love that "God works all things together for good for
those who love God and are called according to His purposes" (Isaiah 8:28).
Two weeks ago I had the misfortune to both run out of checks and loose my debit
card at the same time and I found myself with no cash and no way to get any till
the checks arrive "in five working business days" which meant almost a week. For
some reason (well, I know why now), I felt to drive out of my way to go to a
particular bank, not my neighborhood bank, to get a few checks made up for me
while I wait for new ones to arrive. Note: When you get an inkling, follow it.
If you get a picture in your mind of somewhere you weren't planning on being
that day, ask God if it's somewhere He has for you to be to reach someone. Keep
an eye out for the "God-sighting" because the Holy Spirit may just be up to
something in that very situation. Just watch and see. We often miss
opportunities to partner with God if we're not aware He's at work all around
us.
So I went to the bank. The man at the bank who was serving
me, Brandon, was looking at me kind of funny. Finally he told me, "You so much
remind me of my aunt." Wondering how he feels about his aunt I asked if that
was a good thing. He winds up telling me that she and his mother are telling him
he's going to hell because he's living with his finance'. Boy, if that isn't an opening from God,
I don't know what is.
"Well, Brandon," I tell him, "You don't got to hell because
you're living with your finance'. You go to hell because you haven't asked
Jesus to forgive you for being a sinner altogether." Then I asked him the
definitive question, "If you died tomorrow are you sure you'd go to heaven." He
was. Why? Because he really tries to live a good life and thinks he's a pretty
good person, despite his living situation. "Well, let me tell you what the Bibles says," I tell him.
"It says, 'For all have sinned and fallen
short of the glory of God' (Romans 3:23)." Then I proceeded to ask him a
few brief questions: "Have you ever stolen anything that wasn't yours? (Yes.)
So what does that make you? (He said, "A sinner." I qualified it and said, "A
thief.")
I continued to ask a few more questions: Did he ever tell a lie
(making him a liar) or using God's name as a curse (making him a blasphemer). Like
all of us, he was guilty as charged. "So how's that for commending yourself to
God as a good person?" He got the point. It turned out that Brandon didn't
believe the Bible is true "because it was written 400 years after Jesus," he
said. I corrected some of his church history as gently as I could for what he
could accept, and I wound up briefly telling him my testimony as a Jewish
person who had no expectation that the Jesus story was true until I heard Him
speak to me audibly one day. The supernatural stories often hook people, revealing
the things only the Lord can do, making Him more real than He may have appeared
to them moments before, which is why, incidentally, Sid's show is called, "It's Supernatural."
"Meeting Jesus can really change your concepts of God," I
told him. The change in him just hearing the things I told him was noticeable.
He said I had given him lots to think about and he would consider all I had
said. Somewhere along the way in our chat I ascertained that he was Catholic. I
invited him to come to church. "We have fun in our church. My pastor is quite
funny actually, but we have the joy of the Lord," He looked surprised as he
said, "You have fun in church?" like that was the last think he ever expected
in a church. He asked for directions before I left the bank. I expect I'll see
him again.
These are not dramatic stories but they lend themselves to
changing people's lives for the better when they look to Yeshua. Sometimes you
plant seeds, sometimes you water, sometimes you are a spiritual midwife,
bringing someone to new birth in Messiah. There is no higher calling than to
share Him with others. This life is so short compared to eternity, though to
compare eternal life with anything at all is absurd. It stands alone! However,
you really have eternal life within you now because you have The Eternal One
living within you! Do you fully realize that the Person of God is living within
your deepest being if you are a born again child of God. He dwells in the place
within you where nothing can touch you but Him. What an extraordinary God
dwells in your very innermost being. He has made Himself a part of you. All He
is, is available to you.
Those who have been even remotely touched by
Revival today seem to be hearing the same thing from God: Take the limits off of your thinking
and allow Me to expand your paradigm. Let me show you things according to what
I can do, and don't limit yourself based on what you think you're capable
of. God Almighty is in you wanting to get you to let Him open up your thinking and
your heart to allow Him to work through you according to His
limitlessness. Can you even
imagine that? He knows better than you do what He's made you for and can equip
you to do. "Trust in the Lord with all your heart and lean not on your own
understanding" (Prov. 3:5), and He will take you farther than you ever
expected to go. He will do through you what you could not do yourself. All you
need to do is begin to fellowship with Him in this sharing the Gospel with
others. Talk to Him, pray, sing, meditate, spend time just pondering some
things about Him. Enjoy Him!! Then
go and share Him with others in the most natural and normal way. Not
religiously or out of obligation. But because people are perishing and we are
the only ones who can get them saved.

Reprint of this article is permitted as long as you use the following; Use by permission by Messianic Vision, www.sidroth.org, 2011.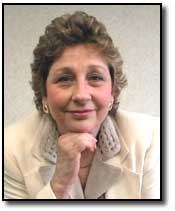 Scripture quotations are from the New American Standard Bible Copyright ©1960, 1962, 1963, 1968, 1971, 1973, 1975, 1977, 1995 by The Lockman Foundation, La Habra, Calif.  All rights reserved. Used by permission.
---