Killed Any Giants Lately?
by Lonnie Lane
Killed any giants lately? Is your slingshot in good shape in case one shows up? Everyone loves the story of when David slew Goliath. You don't hear the term "slew" much these days. Then again, we don't hear much about giants or even slingshots these days either. What we do hear about almost daily is of boasting Philistines who taunt the armies of God. The media tells us about them all the time.
The name for Philistines in Hebrew is Plishtim (pronounced pleesh-teem'). It is the exact same name as Palestinians. Both are Plishtim. Goliath was a Philistine. The Philistines were descendants of Mizraim, ancestor of the Egyptians, all descended from Noah's son Ham. (See Genesis 10:6-14.) Being descendants of Ham, incidentally, invalidates the Plishtim from being rightful inheritors of the Land of Israel since it was promised to the Sons of Shem through Jacob, not to the sons of Ham. For many who don't know this bit of truth, the Plishtim's claim to the Land may appear as valid.
Plishtim have always been a thorn in Israel's side. Goliath was a bully who had no fear of God, having his own gods. Nor did he have any understanding of Israel as being the people of God. He called them "followers of Saul" who was at that moment cowering in his tent, devoid of leadership ability or courage. But that's not the end of the story.
Ta-dah! Enter David, still somewhat smelling like anointing oil from Samuel having anointed him recently to be king though still a youth.
The word "dismayed" means to be paralyzed by a real or imagined fear. It's what God told Joshua never to be. It's what Saul's army was before Goliath — until David arrived. He sees what's going on and is immediately incensed. There is reproach upon Israel and it must be dealt with. David doesn't see these men as followers of Saul or even as the armies of Israel. He sees them as God's army! To David, God's people should not be intimidated by anyone, ever, giant or not.
David makes a declaration that is pertinent as to how we should view the Plishtim who defy Israel today, warring against her or threatening her existence or claim to her God-given territory. With righteous indignation he declares, "Who is this uncircumcised Philistine that he should taunt the armies of the living God?"
It's the honor of God that David is primarily concerned with, not just the winning of a battle. Neither Goliath nor his Plishtim are in any covenant with God. They have no fear of God, nor of Israel as the people of God. But this one young man, with an anointing from God and a history of knowing God is with him, changes history that day. God is alive. David knows Him.
David has had experiences in which God had prepared him for this. While tending his father's sheep, one of them was taken by a lion one time and a bear another. David went after them both and "slew" them, even grabbing the lion by its "beard" and clubbing it till it dropped the lamb and fell over dead. Such a story is hard to believe, except for those of us who are — Believers. We know that our God does exceedingly abundantly beyond all we can imagine when we look to Him in faith.
David tells King Saul, "Your servant has killed both the lion and the bear; and this uncircumcised Philistine will be like one of them, since he has taunted the armies of the living God….The LORD who delivered me from the paw of the lion and from the paw of the bear, He will deliver me from the hand of this Philistine" (1 Sam. 17:36-37). This is not bravado; this is true experiential confidence in the Lord. At first Saul tries to put his own armor on David. But that was the armor of a coward, for one who expects he might get hurt. David didn't expect to get hurt, he expected to kill Goliath, period.
And so David runs toward the giant. He is a consummate slingshot marksman and just happens to have it with him. He's developed this skill, but even so, his confidence is in God, not his prowess. His well oiled slingshot is with him and ready as he hurls a stone at Goliath's head and thunk! It hits him with a force that knocks him out. David runs to him and pulling out Goliath's sword from its sheath, he slices off his head with his own weapon. Israel runs forward with a victory cry and defeats the Plishtim.
We who fight God's battles in prayer are as the armies of the Living God. Our goal isn't just to win a battle. It's God's honor we're ultimately fighting for. It's the vindication of His Name and His Word that we strive for. We have an Almighty Leader, King Yeshua, who causes us to fight in the spirit with the same kind of confidence in God that David had. He gives us His Spirit to lead us and the armor of God that is the character of godliness which will protect us from vulnerability to the enemy.
A slingshot is made of leather. It must be rubbed with oil to keep it soft and supple, so it's not dry and cracked. Oil as we know is symbolic of the Holy Spirit. We are as slingshots in the Hands of the Master Marksman. We must keep ourselves in the Spirit and ready at all times to face a giant that defies God in any way, small or large. Our confidence in the Lord and the leading of His Spirit will help us to hit the mark and deal a blow to any challenges to God and His people.
Sid's Messianic Vision ministry has as its goal to bring the pure gospel to Jewish people and all people in power and demonstrations of the Spirit in order that God will receive the glory due His name and that His people will be equipped to serve Him in a manner worthy of His name. This sometimes means dealing a blow to traditions that nullify the Word of God. (Mark 7:8,9,13). And it means following the Master wherever He leads, knowing He will provide what is needed.
David slew the "strong man" but it was the army of God that went after the enemy and defeated the rest of them. For Sid and those who work with him to help fulfill the "Messianic Vision" God has given him, we cannot do it without the armies of God that route the enemy on our behalf. We thank you, soldiers of God, for standing with Sid and the rest of the team for God's glory.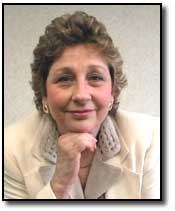 Scripture quotations are from the New American Standard Bible Copyright ©1960, 1962, 1963, 1968, 1971, 1973, 1975, 1977, 1995 by The Lockman Foundationk, La Habra, Calif. All rights reserved. Used by permission.
---