The Good Will & Pleasure of God
The Good Will & Pleasure of God
by Lonnie Lane with Phillip Ward
There's a Yiddish word, kvell, that means to be delighted, to overflowing with pride. You kvell over someone else you care deeply about, someone close to you, not yourself. It means to take great pleasure in someone you love. Like when your child does something you're proud of such as taking their first step, or learning to ride a bike, or does something at any age that makes you proud of them. Like if they are in a play or perform a solo on their clarinet so you want to nudge the complete stranger sitting next to you and say, "That's my kid!" Or you're at your daughter's wedding and you're really delighted with the guy she's chosen. Showing pictures of your grandchildren to anyone who will let you, is considered as kvelling. When someone tells you, "Your son looks just like you," or "She reminds me of you the way she did (or said) that," it qualifies for doing some kvelling.
Did you know that God kvells over you? He is so delighted with you at every step, every time you make even the smallest choice to be like Him in some way. He's overflowing with pleasure in you. Even when you make mistakes while you're learning to walk in Him, He's so proud of you. When you fall, He picks you up spiritually speaking and sets you back up on your feet to try again. He has angels watching over you and looking out for your well-being. His greatest pleasure is in His children. And He kvells when we act or speak like Him!
We are most delighted in our children when they are doing what we believe is best for them, aren't we? And in this, we are like God. When our children act in rebellion or disobedience, we don't love them any less, but we aren't kvelling then either. We are more concerned for their well-being then. And so is He. Only He doesn't worry like we do. He watches over them (us!) to lead us and guide us in the way in which we should go (Ps. 31:3). He knows the beginning from the end (Is. 46:10) and He has promised to work all things out for good for those who love Him (Rom. 8:28). Also, God has given us children so we would know how He feels about us and how He works to bring us to maturity in our lives. He could have done it another way.
We seek pleasure it is one of the highest motivators in our lives because pleasure is God-like. We love because He loves. And love is more pleasurable than any other experience we can have at every age level. It is His great desire to share His pleasure with us. Pleasure and joy are related. Joy isn't about circumstances, nor
"Not only do we experience pleasure when we do God's will, but God experiences pleasure."
is it the absence of stress or loss. It's the presence of the Lord. "In Your presence there is fullness of joy; in Your right hand there are pleasures forever" (Ps 16:11). Pleasure and joy are part of God's nature and in the environment of God, where He is, in His presence, there is pleasure. Pleasure is experienced in our emotions. We are, after all, created in His image and so we have emotions because He has emotions. And He created such a beautiful earth just for us. He gave us each other to love that we might partake of His pleasure and joy. That's why it is so pleasurable to eat, to see, to hear, to be one within a marriage, or with trusted friends or family members we share life with. With sin came distortions of those pleasures so that they are often warped or go unnoticed as we may struggle through life. But the pleasures are there for us to enjoy. One of the joys of coming to know God through Yeshua is that when we become alive to God in our spirits, we begin to enjoy Him. And hopefully we come to know that He enjoys us. We begin to enjoy the life He's given us as from Him. His gift to us. And as we learn what God's will is we find pleasure in doing His will.
There is a link between God's will and God's pleasure. Not only do we experience pleasure when we do God's will, but God experiences pleasure. His pleasure is for us to do His will. It is not hard for us to accept that His will and His pleasure are both entire and complete in heaven. When Yeshua prayed, "Thy kingdom come; Thy will be done on earth as it is in heaven" (Matt 6:10), His desire was for God's pleasure to be accomplished and entered into here on earth in our daily lives. Yeshua knew the pleasure and peace of always doing God's will and God made it clear that He took pleasure in Yeshua. Pleased and pleasure are basically the same word in different form. God showed His pleasure in Yeshua when He spoke: "Behold, a voice out of the heavens said, 'This is My beloved Son, in whom I am well-pleased.'" He was well pleased because Yeshua always and only did His will.
God's greatest pleasure is in His son. He exhibits His pleasure in and through Yeshua. It is through Yeshua that we know the true love and blessings of God, "who has blessed us with every spiritual blessings in the heavenly places in Messiah…having made known to us the mystery of His will, according to His good pleasure…" (Eph. 1:3,9 NKJV). That mystery is that "He might gather together in one all things in Messiah, both which is in heaven and which is on earth in Him" (:10 NKJV). Now there's a 'one new man' verse for you everyone and everything in creation is to be summed up in Messiah!!! We get to participate in that by doing His will, one choice, one opportunity at a time. Our loving obedience contributes to "the restoration of all things" (Acts 3:21). So our individual obedience serves not only for our own relationship with God but as intercession, you could say, for all of creation to be restored to ultimate God-likeness.
Can you then see how you matter? When you choose to believe God, when you enjoy God, when you lovingly do His will, does matter – to yourself, to those around you, and extends to the universe and our collective ultimate destiny in God? How pleasing do you think that is to God, for you to share in His will in this regard? Whooooeee! Can we even begin to imagine 'the measure of the pleasure' of God in that? "Joy unspeakable and full of glory!!!" (1 Peter 1:8).
When you are His and born-again, "it is God who is at work in you, both to will and to work for His good pleasure" (Phil 2:13). What that means is that God puts a desire within us to choose with our own free will to do His will which brings Him pleasure in us. I guarantee you that if what we are doing pleases God, He will be sure we are pleased as well. He shares His pleasure with us by imparting His pleasure to us! In fact, that is a good bit of what worship is about. We sing His praises and minister to Him, tell Him how we appreciate and love Who He is and what He does for us, and He turns the pleasure back to us. It is pleasurable to worship God, to give Him praise. Having a bad day? Turn your heart toward telling God what you enjoy about Him, even sing it to Him. Tell Him what you're thankful for and He'll send it right back to you. He will pour out His pleasure upon you.
Singing praises to God is so delightful because it's a mutually pleasurable experience between you and God. In a healthy love relationship, we want to bless and give pleasure to the one we love and it delights us to do so. It gives us pleasure to please the ones we love, doesn't it? We feel pleasure when we see how much pleasure we're giving them, whether it be a child, a mate, a friend, or someone we respect or admire. There are so many ways to bring pleasure to those we love. So also with God. "God is most pleased with us when we are most enjoying Him" (Jonathan Edwards). Doing God's will is an act of love and is therefore enJOYable, even if it's hard or costs us something. The joy, the pleasure, is deep inside in our spirits. When we are doing God's will, He is most pleased – and so are we.
How can we be sure we're in God's will? It is not so much a matter of what we do as of it being a heart matter. Ultimately, it is righteousness that God desires which we first see in Abraham when he believed God who "reckoned it to him as righteousness" (Gen. 15:6). When we believe God that Yeshua died for our sins, we are counted among the righteous. We believe with our hearts "for with the heart a person believes, resulting in righteousness" (Rom 10:10). Then God does a work in our inner most being by His Spirit so that we are able to do His will. He will "equip you in every good thing to do His will, working in us that which is pleasing (pleasurable) in His sight, through Messiah Yeshua to whom be the glory forever and ever, Amen." Notice, it says, "in every good thing." God is good and everything He does is good. We may go through some difficult things as individuals or as a family or even nationally, but it is always with our well-being and salvation in mind. What may look like trouble or even disaster to us may in fact be the very Hand of God rescuing us from what is not good, especially if it would lead us to, or plummet us into, an eternity that is really "not-good."
Doing God's will is a matter of the heart. It's about loving Him. Yeshua said, "If you love Me, you'll keep my commandments" (John 14:15). That's about us loving Him by doing His will. But doing His will by keeping His commandments also brings God's love to us: "He who has My commandments and keeps them is the one who loves Me; and he who loves Me will be loved by My Father, and I will love him and will disclose Myself to him" (John 14;21). Yeshua will disclose Himself to us when we keep His commandments from the heart, out of loving Him. By lovingly doing His will, He will give us greater revelation of Himself. That is my greatest joy in life. To hear His voice and to receive from Him insight into His Word that tells me more about Him satisfies my soul beyond anything this world could ever offer. Who is more fascinating than Yeshua? Who is more knowledgeable than God? Religion may be boring, but a relationship with God? That's the best there is! Never boring. Always new. Always insightful. Always growing if you look for it. He is only good and always true so that whatever comes from Him by His Spirit, and aligns with His Word, can be entirely embraced and trusted.
What a deal! God works in us so we desire to do His will out of love for Him and then He loves us back so we both experience His pleasure. King David who operated under an anointing from God said, "I delight to do Thy will, O my God; Thy Torah (law) is within my heart." These words are a prophecy about the coming Messiah, whom we know to be Yeshua. He kept God's will perfectly out of a perfect heart toward God. But David also spoke the words about himself. He did God's will out of a heart of love for God and His Word. His Word will tell us what His will is. It is hard to know what God's will is unless you are familiar with how He thinks and what He values which is found in His entire Word, from Genesis to Revelation. Happily, the Holy Spirit will teach us what we need to know and will lead us and guide us from the time we are babes in Messiah and don't know the Word. When we are mature in Him He gives us deeper insights into the Word.
My pastor, Phillip Ward, who through one of his sermons provided the inspiration for this article as well as a number of the thoughts I am sharing with you, suggests that faith must have a revelation of the will of God, of what He has for us, and what will please Him. Faith is connecting my desire with the
"By lovingly doing His will, He will give us greater revelation of Himself."
desires and will of God. The blind man in Luke 18:35-42 wanted his sight enough to cry out loudly enough to Yeshua as He was passing by to get noticed even with the crowd surrounding Yeshua. Yeshua asked him, "What do you want Me to do for you?" (:41). Now you might wonder, wasn't it obvious what the blind man would have wanted? He wanted to see. But Yeshua wanted the man to tell Him what he wanted. He needed to verbalize it. The man needed to express it, though Yeshua already knew what he wanted. The man needed to verbalize his desire knowing that it linked with Yeshua's desire to heal him. God desires that we be well. I know that many pray, "If it be Your will to heal, Lord…." But "Yeshua went about doing good and healing all who were oppressed by the devil for God was with Him" (Acts 10:38). So we know that it is God's will and Yeshua's will to heal people. There is no sickness in heaven, right? His desire is that His "will be done on earth as it is in heaven" (Matt 6:10).
The blind man connected his faith with what He knew to be Yeshua's and therefore God's will and said: "Lord, I want to receive my sight!" And Yeshua said to him, 'Receive your sight; your faith has made you well. And immediately he received his sight and began following Him, glorifying God." (Luke 18:35-43.) In another situation, the woman with the issue of blood connected her faith to her revelation of God's will and Yeshua again responded with "Your faith has made you well. And at once the woman was made well" (Matt 9:22). She put her faith into action.
What is it you want from God? What is your revelation or understanding of God's Word about it that you can connect with your faith? How can you put your faith into action to "touch" Him or tell Him what it is that you want from Him, based on your faith in what you know is God's will and His pleasure to give it to you? When we know it is His pleasure, then we are not working up the faith to try and believe enough for it to happen. That's not how it works anyway. That's focused on our works, not His goodness, His will, His promises or His pleasure. If you're struggling to believe (enough) I have good news for you. He says, "Cease striving and know that I AM God" (PS. 46:10).
What about our needs? Yeshua preached a message about not being anxious about our needs in Luke 12. He says, "Your Father knows that you need these things. But seek His kingdom and these things shall be added to you. Do not be afraid, little flock, for your Father has chosen gladly to give you the kingdom" (:12:30b-32). Sure sounds like Abba is "glad" to give us the kingdom, like it is a pleasure for Him to do so. There's such tenderness in these words of Yeshua. It's Abba's tenderness for us that we hear in His voice. There's a revelation here that it is God's pleasure to give us whatever we are in need of. Our part is to seek His kingdom, that is to do His will. We're talking about the Almighty here. The omnipotent one. The omniscient one who knows what we need and has the power and authority to bring it to pass for those whom He has called to Himself. "His divine power has granted to us everything pertaining to life and godliness, through the true knowledge of Him who called us by His own glory and excellence" (2 Peter 1:3).
When we have true knowledge of God, we can rest in His covenant promises. Speaking of promises, I had a dream this week. In the dream I had gotten a puppy, a cute very fluffy white puppy with a rare brown and black spot here and there. But she was high maintenance. Shedding hair everywhere and I was just not into high maintenance. I wasn't sure I wanted to keep her. I kept deliberating about it in the dream. Was it worth it to keep her when it meant effort to do so? In the dream I heard God tell me to name her Promise. Seemed like a nice name. But still, would I keep her? And how do you change a dog's name when she's used to what you've called her. I had named her Maggie which is the name of a dog my daughter once had and didn't keep for similar reasons. I began to comb her out to make her pretty should I decide to give her away. She had burrs in her fur. I managed to take out the burrs but she rolled over and got them stuck in her fur again so I had to reclaim them again.
About then I realized that in my deliberating and while I was combing and reclaiming the area of the burrs again, she had turned into a mature and rather magnificent dog. She had stature and a regal beauty and had become a dog that one could count on as a loyal friend and protector. Kind of Lassie-like. You know, one to be a real blessing, who will be there to help in any kind of trouble. At that point I woke up and began to wonder what the dream might have meant. As I thought about how God had told me to name her Promise in the dream, I heard the Lord say to me, "Because God always keeps His promises!" I had to chuckle at His word-play. Here I was trying to decide whether to keep Promise the dog in the dream but the message from the Lord was that sometimes the promises of God require some high maintenance to stay in faith. Sometimes we have to take the burrs out of our thinking in order to maintain them, even repeatedly. But when our faith matures, His promises will bless us, and protect us and be as loyal friends to us to be there no matter what trouble might arise. His promises, in fact, do turn out to be magnificent!
When our faith connects with the revelation of His will, it is His great pleasure to give us what our hearts desire. "And this is the confidence which we have before Him, that, if we ask anything according to His will, He hears us. And if we know that He hears us in whatever we ask, we know that we have the requests which we have asked from Him" (1 John 5:14, 15). May you enter into new revelation of His love for you, of doing His will, and into the joy of sharing in His pleasure. Our God is sooooo good! All the time.
Reprint of this article is permitted as long as you use the following; Use by permission by Messianic Vision, www.sidroth.org, 2009.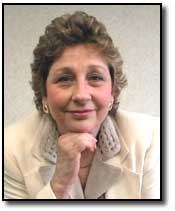 Scripture quotations are from the New American Standard Bible Copyright ©1960, 1962, 1963, 1968, 1971, 1973, 1975, 1977, 1995 by The Lockman Foundation, La Habra, Calif. All rights reserved. Used by permission.
---