Forgiveness: Key to Healing
John Arnott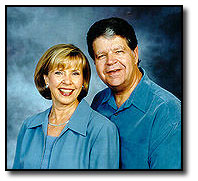 John Arnott is the senior pastor of Toronto Airport Christian Fellowship. He and his wife Carol are the hosts of the daily "Catch The Fire" television program. They travel extensively around the world spreading the fires of revival.
Forgiveness: Key to Healing
By John Arnott
Is there a relationship between forgiveness and healing? I believe there is. For several years now Carol and I have seen multitudes of people all over the world healed as they work through unresolved pain and learn to forgive those who have hurt them. Sometimes they need to forgive themselves for things they have done in the past that they cannot seem to forget. Because they cannot forgive themselves, they believe God cannot forgive them.
But when people forgive themselves and others, powerful emotional healing comes to them as they step into the grace and mercy of God. As we pray for emotional healing, it is common to see wonderful physical healings taking place in the wake of forgiveness.
One such healing took place three years ago as I was ministering in Portland, Oregon. A lady attended the meetings there from Washington state. Over twenty years before, a very serious skiing accident left her suffering from severe back pain. Since the accident, she blamed herself for her lack of skill and carelessness. Medical treatment brought only limited relief. Although she received prayer many times, nothing seemed to change.
We led her through a prayer where she forgave herself for her own negligence. Then we prayed for her physical condition, blessing her back and commanding the pain and damage to go in the name of Jesus. Her pain left instantly and from that moment she has experienced relief and mobility that she has not enjoyed for twenty years. A year later, I saw her again while ministering in Vancouver, BC, Canada. She testified to being pain free for the year and felt she was completely healed of her skiing injuries.
I also remember a former wrestler who was healed during meetings in Juarez, Mexico. During a wrestling match several years before, his opponent "body slammed" him, resulting in severe spinal and pelvic problems and years of intense pain. For many years, he hated and judged the one responsible for his injuries. Reluctantly, he gave the other wrestler who had injured him the gift he did not deserve, his forgiveness. When we prayed for him, the "Holy Wrestler" hit him so hard that he was slammed to the floor of the platform. My concern didn't last long. He jumped to his feet yelling through the interpreter that he was completely pain free for the first time in years.
Why would forgiving yourself and others release GodÂ's healing power in such a dramatic fashion? I believe it has to do with law vs. grace. When we fail to forgive, whether we mean to or not, we are actually calling for justice demanded by law. We believe that someone has sinned against us and that it wasnÂ't fair. We want to hold that person accountable. Or sometimes we blame ourselves for committing the sin.
Although God sometimes goes beyond our unforgiveness and heals anyway, very often his mercy will not meet us as long as we are demanding justice. Jesus said, "Blessed are the merciful for they shall obtain mercy." (Matt.5:7) The blessings that accompany the grace of God cannot flow from our hard hearts as long as we are judging and demanding justice. I have observed so many times that the River of God only flows with His grace and mercy.
Are you in need of physical healing? Have you received prayer repeatedly and yet nothing seems to have changed? Perhaps you are holding onto something that you need to release. Bow in prayer for a moment. Ask the Holy Spirit to show you if there is some unforgiveness there that may be blocking your blessing. If so, then right now, choose to forgive that person who hurt you so deeply. Give them a gift they do not deserve, your forgiveness, just as your loving heavenly Father has given you a gift that you do not deserve, His forgiveness. Then once again, have prayer for your need. You will find a sudden and unexpected stream of His mercy and healing grace pour into your life.
---