Being Heavenly Minded and Earthly Good (Lane)
Being Heavenly Minded and Earthly Good
by Lonnie Lane
God always brings encouragement to us. He always provides wisdom to those who seek Him for it. He always is our hiding place and our source of strength. He will always be our provider. His sweet presence calms our fears and gives us assurance in the midst of uncertainty and change, and solid ground in times of instability. These are always available to us when we seek Him, when we come to Him for them. We can quiet our hearts before Him and let Him speak peace to the storms within our souls. He will give us His perspective on things from above and suddenly we know what to do. Or we can leave them in His hands knowing He will work out and work in us whatever is needed.
I've found that when things are difficult, the "things" that concern me come into perspective when I come to Him in order to know Him more, to be in deeper relationship with Him. You've heard the saying that someone is so heavenly minded that they are no earthly good. Well, I've found the opposite to be true. The more heavenly minded, the more practical and wise one is to bring about good in "earthly" matters.
The more and more we become enthralled with the Person that the Lord is, both when He walked this earth as a human such as we are, and in heaven as Lord of the universe, the more we can see things as He sees them. He never loses His peace or His joy as He watches over the affairs of men. He never worries or is fearful or frightened. He's not confused or in disorder. I'm not telling you that if we seek God we won't experience these things, but when we do, we know where to go. To Him! We don't stay in the place of anxiety. We know that the cause for our unrest is not truth. They may be facts at work presently, but the truth is to be found in Him and His word. The facts may scream loudly, but His "still small voice" carries far more weight a "weight of glory," in fact. "For momentary, light affliction is producing for us an eternal weight of glory far beyond all comparison" (2 Cor 4:17). Paul was in dire circumstances when he wrote those words, but he had a heavenly and eternal perspective on those circumstances. We would do well to keep an eternal outlook on what goes on in this life, which will help us keep things in godly perspective.
Because His ways are higher than our ways and His thoughts higher than ours (Is 55:9), we must look to Him for truth and His ways. We cannot expect to know them in the power of our own souls. However, we are not limited to what our minds and souls are capable of knowing. We who are born again and are the Lord's, have the greatest of all resources available to us. We have the Holy Spirit and the Word of God. The Spirit will lead us and guide us in God's ways and give us ability to see into His Word the truths that those without the Spirit cannot see. "The word of God is living and active" (Hebrews 4:12). It's powerful to protect our minds and hearts and its full power is available to us. But we must believe it. All God ever asks of us is faith. His only requirement is to trust in Him. When we trust Him we'll obey Him because, as the old hymn says, "there is no other way than to trust and obey." When we do, the windows of heaven are open to us to pour out upon us His "riches in glory in Messiah Yeshua" (Phil 4:19).
While praying recently with a friend, I saw a page as if the words had been written in invisible ink a long time ago but the ink was now becoming visible so we could know what was written there. I believe the Lord was saying that He is going to give us ability to see into the Word what we've not seen before, that insights and revelations would be made known to His end-time people. Would not a bridegroom share with his soon-to-be bride secrets he had not shared with her before? Might not the Lord share with His end-time bride things about himself that would be known only in the intimacy of relationship? There is much that God wants to open up to us.
For those who will put aside (Hear this!) the reasons we (think we) are unworthy of His love, or why we hide from His intimate presence, there are things that have been invisible to us until now that are becoming visible. I can feel as I write this, that there are some who are reading this who feel despair at those words, who feel so unworthy of ever coming into that kind of closeness with God but who want that with all their heart. It is our sins that separate us from God. But notice it is we who separate from Him when we feel guilty. For any guilt or sense of unworthiness we may have that has kept us from coming to Him in intimacy, what can be more intimate than being covered with someone's blood who died for you so you could come close to Him? This would seem like foolishness except by the Spirit of God. (Please see 1 Cor 2:14.) But by the Spirit this is great relief. His blood paid for our sins. We avail ourselves of it by turning from our sin, even the sin of unbelief that His blood is enough to wash away our sin, even our sense of unworthiness. We're all unworthy of so great a salvation. That's why it's ours by His grace. It's a gift. Repentance is turning away from what keeps us from an intimate relationship with Him. It's God's sweet release from chains that bind us so we can come into His loving arms to be restored to Him. He does not hold us at arms length, we do that. His arms are open and waiting for those who will come to Him in trust in His abounding goodness toward us.
In seeking the Lord about this issue of trusting Him, he recently gave me the following. I believe these words are wisdom and encouragement from the Lord. See what you think.
It's one thing to know there's a door there, but another to walk through it. Or to use a key to unlock it in order to have entrance into what's behind the door.

There have been pockets of faith and deposits of revelation over the past centuries to restore My church to the integrity and power that I always intended for it to have. I have allowed it to be less than that for My reasons which are holy, just as I am holy. I have been separating out of the world a people for Myself, in just the same way I chose Israel in the first place.

And now, in this day, these are times in which there will be challenges that each of you have not been facing before though many in the world have faced these same kinds of challenges before victoriously and have received the crowns of righteousness for having endured.

I know that you do not like to consider that what you have feared may actually come upon you. But as you may have heard, that which you fear is more fearful than what may actually come about. It is the fear that torments you, not the circumstances, especially when the reality of the circumstances does not equal the fear. And so again, children, I say, Fear Not. Do not be dismayed or paralyzed by fear of what you imagine will come about.

I am your protector and your provider. You are safe under My wings. I am your rewarder for seeking Me and I will provide for you what you need when you need it, so there is no purpose to worrying about what you really can't imagine of what is to come.

What I am telling you today is what I have been telling My people from the beginning: Trust in Me. Don't try and understand because your understanding is so limited. But My understanding is eternal and all knowing. All you need to do is look to Me and I will see to it that you have all you need and that you are given the wisdom you need. If you heed My word to you, you will be safe and at peace. Hide My word in your hearts, children. Allow yourselves to be as little children before Me. Your dependence on Me is faith! Self-sufficiency is foolishness and arrogance and will avail you of nothing. You will see others who boast of this or of that. But pray for them that truth will come upon them and that they will be open to it.

You are My instruments for peace. Peace comes from trust and trust only comes when you know I am trustworthy. Bury My Word deep in your heart that it not be dislodged by anticipations of evil or by circumstances that appear to look as if I'm not in control of your life or the situation. My ways are higher than yours. I have purpose even when you can't see good in it. I will make good come out of it. There can be no other way.

Trust Me. And you will see the salvation of the Lord with your own eyes. My grace is upon you to trust Me in greater levels and with greater spiritual understanding than you've known before. Open your heart and your eyes to see My Kingdom around you and within you. You will notice an increased sense of opportunity to trust in Me. Then you choose. You can choose to trust Me or you can choose to doubt My love for you. If you know I love you and want only your good, and intend for only your well-being, even eternally, then trust will be easy, uncomplicated and natural to you.
There is great, even exceedingly great reward ahead. Do not be weary in well-doing but endure to the end and you will receive the crown of righteousness. Your trust in God will be your sanctification and you will one day see the face of God.
"The eternal God is your refuge and underneath are the everlasting arms" (Deut 33:17).
Reprint of this article is permitted as long as you use the following; Use by permission by Messianic Vision, www.sidroth.org, 2009.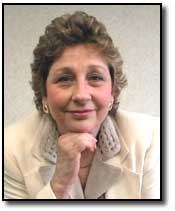 Scripture quotations are from the New American Standard Bible Copyright ©1960, 1962, 1963, 1968, 1971, 1973, 1975, 1977, 1995 by The Lockman Foundation, La Habra, Calif. All rights reserved. Used by permission.
---