Baptized Only in Yeshua's Name!
Baptized Only In Yeshua's Name!
by Lonnie Lane

A question I have been asked on more than one occasion has to do with baptism. This is probably another of those "one new man" issues that will cause you to see things differently, from a more Hebrew perspective, the way it was at the beginning. Here's the latest question about baptism:
"I need some help on the subject of Baptism/Immersion. I was immersed in the Name of the Father, Son, and Holy Spirit, but there are some people saying that that is unbiblical. They also say that true water baptism is when a person is immersed in the name of Yeshua the Messiah, and not in the name of the Father Son and Holy Spirit…."
"Fortunately, following the Lord in baptism is always honored by the Lord, provided it's a heart issue between us and God."
Fortunately for us God doesn't look at what we do, but what our motive is for what we do, "for God sees not as man sees, for man looks at the outward appearance, but the Lord looks at the heart" (1 Samuel 16:7). It's a good thing that God doesn't judge us by our doctrines either, because some of the doctrines we've inherited are definitely in need of some adjusting. This one, for instance. Fortunately, following the Lord in baptism is always honored by the Lord, provided it's a heart issue between us and God. However, I'd like to suggest there's more to baptism than just "doing it." And there is this matter of the name in which we are baptized.
We do live in a time of restoration, when God is replacing doctrinal errors in the true church with His truths for those who really want to know them. Not everyone does. Some like it the way it is, as in "We've always done it this way." Well, with baptism, we haven't always done it this way. At least, not in the beginning. The fact is, baptism was always and only in the name of Yeshua until about the time of Justin Martyr in the second century when the Triune or Trinitarian formula was introduced. Even the Encyclopedia Britannica says "The baptismal formula was changed from the name of Jesus Christ to the words: Father, Son & Holy Ghost by the Catholic Church in the Second Century." Now, before you go thinking it's the Catholic church's fault, please remember that in the second century, and in fact until the Reformation in the 1500's, the only church was the Catholic church, so the introduction of the concept of the trinity is part of our common history as Catholics or Protestants. When the Protestants left the Catholic church, they maintained some of the doctrines of the Catholic church, the trinity being one of them. I'm sure this will stir up a lot more questions. So we'll deal with this issue of the trinity in another article at another time. For now, onto the baptism issue.
What we call "The Great Commission" reads in most of our Bibles this way: "Go therefore and make disciples of all the nations, baptizing them in the name of the Father and the Son and the Holy Spirit" (Matthew 28:19). Probably most of us were baptized that way, whether we were sprinkled or immersed, as a baby or as a believer. However, it is true that in the original Greek text of this verse, Yeshua told His disciples only to baptize in His name.
There is evidence to believe the phrase, "Father, Son and Holy Spirit" was added later and codified at the Nicean Council in 325 A.D. when much of the "Hebrewness" of the Bible and the faith was done away with, so it would not be surprising that some very non-Hebraic, that is to say unbiblical precepts would have been introduced. Some earlier Christian theologians who had seen the complete book of Matthew attested that the early copies of Matthew did not contain the phrase. Eusebius also confirmed it was not in the early texts, as did other theologians. The evidence appears to be overwhelming that the phrase was not in the original texts. Our best witnesses to that would be the disciples themselves. So let's look at what they had to say since Matthew 28:19 is not the only reference of what Yeshua told His disciples when he "commissioned" them to "go."
In Mark's account, Yeshua tells them to cast out demons in His name (only) but doesn't even mention a name in which they are to be baptized: Go into all the world and preach the gospel to every creature. He who believes and is baptized will be saved; but he who does not believe will be condemned. And these signs will follow those who believe: In My name they will cast out demons; they will speak with new tongues" (Mark 16:15-17).
In the following verses, Yeshua tells them that all that is written in Scripture is about Him and that repentance for the forgiveness of sins is in His name (only). "Now He said to them, "These are My words which I spoke to you while I was still with you, that all things which are written about Me in the Law of Moses (Torah) and the Prophets and the Psalms must be fulfilled." Then He opened their minds to understand the Scriptures, and He said to them, "Thus it is written, that the Messiah would suffer and rise again from the dead the third day, and that repentance for forgiveness of sins would be proclaimed in His name to all the nations, beginning from Jerusalem. You are witnesses of these things" (Luke 24:44-48).
Scripture was not only prophetically focused on Who Yeshua is, but accordingly, repentance and the forgiveness of sins are to be preached in His name! We see this beginning to play out when Peter preached the first Spirit-filled and anointed message ever recorded, at Shavuot (Pentecost) when the Holy Spirit fell upon them: "Then Peter said to them, 'Repent, and let every one of you be baptized in the name of Messiah Yeshua for the remission of sins; and you shall receive the gift of the Holy Spirit." (Acts 2:38).
This next scenario takes place when Peter and John were arrested, "the priests and the captain of the temple guard and the Sadducees…being greatly disturbed because they were teaching the people and proclaiming in Yeshua the resurrection from the dead. (Acts 4:2). As the Sadducees did not believe in the supernatural, nor in resurrection, this was very troubling to them. So Peter and John were on trial for healing a man in Yeshua's name. Peter proclaims fearlessly and with great authority (Can't you just hear him?), "Let it be known to all of you and to all the people of Israel, that by the name of Messiah Yeshua the Nazarene, whom you crucified, whom God raised from the dead — by this name this man stands here before you in good health. And there is salvation in no one else; for there is no other name under heaven that has been given among men by which we must be saved" (Acts 4:12 ).
He means, of course, the name of Yeshua. Although this verse may not mention baptism, we see that Jesus is the name by which we are saved, and that there is no other! If we are saved in His name, then it stands to reason that we would be baptized in His name. Other verses indicate that the disciples had no thought other than to baptize in the name of Yeshua:
"But when they believed Philip as he preached the things concerning the kingdom of God and the name of Yeshua Messiah, both men and women were baptized" (Acts 8:12).
"For as yet He had fallen upon none of them. They had only been baptized in the name of the Lord Yeshua" (Acts 8:16).
"And he commanded them to be baptized in the name of the Lord" (Acts 10:48).
"When they heard this, they were baptized in the name of the Lord Yeshua" (Acts 19:5).
"And now why are you waiting? Arise and be baptized, and wash away your sins, calling on the name of the Lord" (Acts 22:16).
When Paul came upon some who had neither been baptized in the name of Jesus, only in John's baptism, nor had they received the Holy Spirit, he re-baptized them: And he said, "Into what then were you baptized?" And they said, "Into John's baptism." Paul said, "John baptized with the baptism of repentance, telling the people to believe in Him who was coming after him, that is, in Yeshua." When they heard this, they were baptized in the name of the Lord Yeshua.
Paul further wrote to the Roman church what is obviously a significant part of the Gospel he preached, that baptism is "into Messiah," that is, into a union with Him: "…Do you not know that as many of us as were baptized into Messiah Yeshua were baptized into His death? Therefore we were buried with Him through baptism into death, that just as Messiah was raised from the dead by the glory of the Father, even so we also should walk in newness of life"(Romans 6:3,4).
Lest anyone be looking to Paul himself for salvation, he makes it clear it is only Yeshua in whose name we are saved, and in whose name we are to be baptized: "Is Christ divided? Was Paul crucified for you? Or were you baptized in the name of Paul?"( 1 Corinthians 1:13). What he's obviously making a case for is that they were baptized in Yeshua's name, not his name. He goes on to make the strategic point that baptism is "putting on Messiah" as in taking on an identity, so as to become entirely identified with Him: "For as many of you as were baptized into Messiah have put on Messiah." (Galatians 3:27).
"The same work of God who raised Yeshua from the dead, now works in us to raise us now with Him."
Our identification with Yeshua extends to His death, so that we no longer live according to our old life, the life of the flesh. When we are immersed in the waters of Baptism in Yeshua's name, it is that identification with His death that we enter into — in reality, by faith, we enter into Him! "In Him you were also circumcised with the circumcision made without hands, by putting off the body of the sins of the flesh, by the circumcision of Messiah, buried with Him in baptism, in which you also were raised with Him through faith in the working of God, who raised Him from the dead. (Colossians 2:11, 12). Circumcision was about cutting a covenant with God. We enter into covenant with God by identifying with Yeshua through baptism, considering our old life as dead and buried. Yet we are made alive with Him. The same work of God who raised Yeshua from the dead, now works in us to raise us now with Him.
Now that we've established that baptism was always about Yeshua and identification with Him, Peter later gives us some further input on baptism: "Baptism now saves you — not the removal of dirt from the flesh, but an appeal to God for a good conscience — through the resurrection of Messiah Yeshua" (1 Peter 3:21). The Hebrew people understood covenant. They also understood God's requirement for righteousness and the repentance of sins. That's what all the blood sacrifices were about — forgiveness of sins. Once they understood that Yeshua was the final sacrifice, making the complete Atonement for their sins, they also knew it wasn't a general one-size-fits-all repentance. It had to be specific. They had to repent specifically, just as they would have had to bring a sacrifice to the temple for their specific sins. Even when John was preaching baptism, "all the country of Judea was going out to him, and all the people of Jerusalem; and they were being baptized by him in the Jordan River, confessing their sins" (Mark 1:5). Once having repented, they could be baptized as the sign that they were "turning" from their sin to God in the name of the One Who died so they could be fully forgiven and restored to God.
Today, we consider it an accomplished salvation when we lead people in a "salvation prayer" saying, "Lord, come into my heart and forgive me for my sins" and we tell them they're saved and heading for heaven. That worries me. If we use the Biblical term, we would say we're "being saved" which sounds like an ongoing process, doesn't it? (See Luke 13:23; Acts 2:47; 27:20; 1 Cor. 1:18 and 2 Cor 2:15). What if someone doesn't continue to walk uprightly with the Lord, but thinks they're "saved" and heading for heaven even though they have never really repented or identified with Messiah's death to self? If we are not walking according to His word, are we not walking in "lawlessness"? This would mean Torah since all sin is defined by Torah and no where else. Any New Testament sin is only confirmation of what was I can't imagine any worse fate than this: "Many will say to Me on that day, 'Lord, Lord, did we not… (say the sinners prayer and were even baptized)?' And then I will declare to them, 'I never knew you; Depart from me, you who practice lawlessness" (Matthew 7:22- 23 my addition).
Somehow that verse about "an appeal to God for a good conscience" rarely gets mentioned. Do we really know what "repent" means? Have people really repented specifically and turned away from their sin? Or do we struggle with the same sins for years? How radically do we get saved? The salvation message is a radical message, but if we don't preach a radical Gospel, then we don't get quite so radically saved, do we? I wonder if that's why people can sit in church for years and still be in bondage because we've not discipled people properly (or at all) and we're still carrying around not-so-clear consciences. There's more to be said on this, but in keeping with talking about baptism in Yeshua's name, if we are to be baptized in His name and into identification with Him, that is supposed to mean getting free of sin through repentance and baptism as an appeal to God for a cleansed conscience because we've repented and TURNED from our sin. Hebrews didn't just say, 'I'm sorry, God." That's remorse, not repentance which is an abandoning of the sin.
While it is not necessary, and God surely accepted your obedience in being baptized the first time, perhaps some of you may wish to be baptized again. You may wish to do it properly in the name of Yeshua as a new commitment to entering into a full identification with Him which you may not have understood when you were baptized the first time. For instance, since baptism is an identification with the death of the Lord, this verse may have a much greater meaning to you now than when you first believed: "I have been crucified with Christ; and it is no longer I who live, but Christ lives in me; and the life which I now live in the flesh I live by faith in the Son of God, who loved me and gave Himself up for me" (Galatians 2:20). The Hebrews understood the meaning of sacrifice for sin and they understood covenant, so when they entered into baptism, they had more of a grasp on the significance of baptism than we may when we first come to the Lord. This is one of the reasons why Hebrew or Biblical roots teachings to new believers is so important to understand basic things like baptism.
Biblical immersion, by the way, can be lowering yourself under the water, not necessarily the backwards falling into your pastor's arms while holding your nose kind of baptism, though that is a good experience of identifying with His death. It is Biblically permissible for us to baptize one another in the name of Yeshua. With the influx of the "multitudes of men and women (who)were constantly added to their number" (Acts 5:14), there was no way that the twelve Apostles could have attended to daily immersing all those people. Besides, we take the Great Commission (Matthew 28:19) to mean He commissioned all believers to "go." Incidentally, the Greek reads more like "as you go" meaning throughout your life. It wasn't intended only for missionaries, but for all of us. Since baptism also represents our commitment to being a part of the Lord's body of people, this should be done within the context of a commitment to being a part of the fellowship of believers. "For by one Spirit we were all baptized into one body, whether Jews or Greeks, whether slaves or free, and we were all made to drink of one Spirit" (1 Corinthians 12:13).
When considering writing this article I emailed my friend Jim with whom I've had conversations about Baptism for his input. He feels rather strongly that we get this right. Part of what he provided was this (with a little editing from me): "…Forgive the pun, but I don't know of any doctrine of Christ (Messiah) that has been more watered down! It's not me saying "…wherein baptism now saves you," it's Peter…. Of course the key to an effective baptism is that one has "died" in repentance. You know when Jesus said in Luke 9:23, "If anyone wishes to come after Me, he must deny himself, and take up his cross daily and follow Me", he used a Greek word that could better be translated "disown". You know what it means to disown a child, you are saying that child has nothing to do with me, is not a part of me, and really that it never will be again. That's what is taking place in true repentance — you are disowning your old self, past, present and future and burying him in baptism, pledging him to the grave. It's a real death to yourself. And in Paul's discourse in Romans 6 on water baptism, in verse 7, he says, "He who has died is (most versions say) freed from sin", but the Greek word is "justified." But it has to be a real death by faith, which is granted by God through His grace."
Our desire is to be one with Messiah and to walk in all the fullness of the new life that He offers to us. There's only one way to resurrection and that's to die. Baptism is that symbol of death to the old sin nature. So while it is of great importance to be baptized in the name of Yeshua, it is more important to know why we're to be baptized or baptizing in the name of Yeshua. In the final analysis, it comes to this: In the same way, count yourselves dead to sin but alive to God in Messiah Yeshua. (Romans 6:11). Alive to God! I love being alive unto God.
Reprint of this article is permitted as long as you use the following; Use by permission by Messianic Vision, www.sidroth.org, 2009.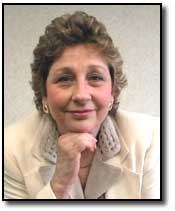 Scripture quotations are from the New American Standard Bible Copyright ©1960, 1962, 1963, 1968, 1971, 1973, 1975, 1977, 1995 by The Lockman Foundation, La Habra, Calif. All rights reserved. Used by permission.
---