Anti-Semitism at a Polish Soccer Match
Anti-Semitism at a Polish Soccer Match
by David and Leslye Schneier
Can you imagine going to a major league event, like the World Series, and having the fans display flags with Nazi swastikas or a banner the size of 3 sections of stadium stands? Well, in Europe it is happening with regularity as reported by the web site of the Coordination Forum for Countering Antisemitism (CFCA,  www.antisemitism.org.il). On October 2nd we were shocked by  the image of the Polish fans of their team Legia Warsaw who unfurled an immense banner with the words "Jihad Legia"  to intimidate the visiting Israeli team ("Legia" is the name of the Polish team). What would our sports officials and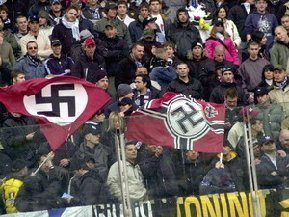 law enforcement officers do in the face of such provocation, discrimination and ant-Semitism? Could this happen in the US as well?
Earlier, the CFCA exposed the same vein of deep anti-Semitism at another soccer game when it reported "Slogans 'Jews to the ovens'  (were written) on the walls of the stadium, fans singing 'All the Jews are soap' and cries of support in the style of Adolf Hitler (were heard).  Did you think that antisemitism had disappeared from the world?  Welcome to European football where it is still alive and kicking." (From CFCA article dated May 2, 2011).
If you would like to read more, join us, David & Leslye Schneier, on our blog at www.closeupsfromfaraway.blogspot.com.
---